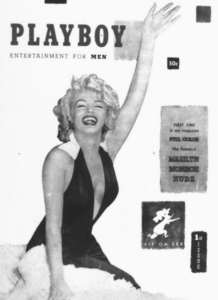 One of the great brands, PLAYBOY, has decided to undergo some plastic surgery. Launched in 1953 featuring Marilyn Monroe on its cover and as its first Playmate, this iconic brand from its beginning redefined sexual culture and launched a national conversation, with us still today, about the roles of and interplay between men and women in our culture. And while over the years the magazine published articles and stories by such lauded authors as Margaret Atwood, Woody Allen and Haruki Murakami and interviews with Malcolm X, Vladimir Nabokov, Martin Luther King Jr. and Jimmy Carter (who admitted lusting in his heart for women other than his wife), and taught men about high style and great jazz and living the cultured life displayed in the televised voyeurism presented in Playboy After Dark, and the hedonism at play behind the walls of the Playboy Mansions, at the beginning and the end of the day it was about the idealized, sexually charged nude women displayed in its pages.
That day has come to an end. Like all great brands, Playboy has seen itself in the mirror and decided change was needed. Nudity in modern times had been transformed into pornography readily available on the Web, a commodity which no longer had to be payed for. Faced with this reality and the loss of revenue that went with it, Playboy is redefining itself. There will still be provocative images of women, but now it will be a softer PG-13 version (which still drives revenue, like the Sports Illustrated Swimsuit issue and Victoria Secret ads), but there will be more content that sings to Millennial males — visual art, features about liquor, and the like — an updated lifestyle guide for younger men.
Whether or not the brand succeeds in this new face is of course a matter of time. But given the options, as its CCO (Chief Content Officer) Cory Jones said, "it is the right thing to do." Stay tuned.