Posted by Michael Leventhal
On June 16, 2017
The idea of an AI has been toyed with across science fiction for decades now, in part because of our fear that our lives will end after uttering "open the pod bay doors." But what is AI really about, and what can we expect of it right now? Artificial intelligence in the modern understanding is comprised of a large amount of parallel processing units working together to process large quantities of information extremely quickly. This tech provides the underlying computational power that drives the design of any VR/AR/MR device or application. Every operation is built upon some form of pattern recognition, whether it be movements, colors, shapes, sounds, etc. There are already more available programs than we can name that could not function without the use of AI. For instance, the application Prisma uses artificial intelligence to turn ordinary photographs into works of art. Users decide which styles they wish to emulate, and the underlying AI, which has access to countless examples of intricately analyzed paintings and designs, will recreate your photograph in the way Van Gogh might have seen it. How long do you think it will be before our head-mounted wearables make this happen in real time? With that being said, pattern recognition through parallel processing units doesn't qualify a computer as an AI. To be deemed artificial intelligence, it has to take this a step further. Imagine a program that plays Go against a human user. Let's say that we start it out as an undeveloped set of parallel processors with no real experience of the game. You play it once and easily win. It records this information and designates it by the end result. Over time, as you play more and more games, the program learns your strategies, determines their inevitable results and designs opposing strategies for combatting your plans of attack. As you get deeper into the process, the AI will have learned so much from the varied experiences of playing you, that it will not only react competently to your moves as you reuse them, but also use its memory of many former outcomes to predict possibilities it has not yet encountered. In other words, it will learn over time, as the compounded rudimentary lessons grow into a vast basis for predictable future action. This is exactly what google created with the Deepmind project. And now their creation has surpassed the most accomplished human masters of the game Go, a game with so many possible moves, they outnumber the particles in the known universe. In fact, it is even said that the calculations are too much for any known computer, including Deepmind. Some people believe that to succeed at Go, one must possess genuine intuition. This brings us to the most fascinating fact about Deepmind, it will continue to learn even after you have stopped teaching it. But how could this be possible? It does this through a process called backpropogation, a process that allows an AI to revisit already experienced scenarios on its own, similar to the human memory. It is capable of picking out particular details and determining patterns that occur within these experiences. Using this process, DeepMind was able to teach itself sophisticated pattern recognition, which is exactly the sort of function that would allow an AI present in a VR/AR/MR system to analyze many different eye movements, arm movements, sonic patterns or still images and compile them into a working system of identification. For example, DeepMind was fed over 128,000 retinal images in an effort to have it independently create an image of a retina. Over extended comparison, DeepMind began to see similarities between diseased eyes that healthy eyes did not possess, and it did so without any guidance. At first it had no way of knowing what the pattern suggested, only that it was there. But, by the end of the process, Deepmind was capable of identifying diseased eyes with greater accuracy than any human doctor. This is the distinction between an AI and an extremely powerful computer. The processing power is similar, but the AI has the capability of retracing its own logical/procedural steps without any command to do so. It learns autonomously and updates itself so as to optimize its own operations. Some find it intimidating that our creation might grow without our direct supervision, but in a sense, this is the same struggle we experience with our children. Others believe that our future will be designed by AI, reaching for further programs and ideas that simply extend beyond the boundaries of human thought.
Posted by Michael Leventhal
On June 6, 2017
Recently, I've been speaking at a bunch of AR/VR/MR conferences, sometimes on the dry subjects of legal entities, intellectual property rights, and getting your corporate house in order.  I'm always amazed people show up for my talks.  Down the hall, someone is showcasing a new head-mounted display, startling breakthrough in AI, or discussing the art of narrative storytelling in this new interactive medium.  Meanwhile, I'm discussing the difference between a C corp, an S corp and an LLC.  And, yet . . . people do show up, and, even more shockingly, they stay!  Why?  Because the visionaries are starting to understand that having an amazing idea and some great people is not enough to give your idea the best chance at success.  You've got to lay the proper business and legal foundation or you aren't going to be successful.  The choice of the proper entity, and a lawyer who has your back with regard to protecting your intellectual property won't make you successful.  But, without those things, your odds drop precipitously. So, here are a couple of bullet point sets: Things you can't do without a corporate entity:
Get funded
Hire employees
Protect yourself personally
Get some powerful tax benefits
Things you can't do without THE RIGHT corporate entity:
Get funded by most people/companies you want funding you
Give your employees an attractive comp package
Maximize your personal protection
Get some of those tax benefits
Here's a shorter one: Things you can't do without the right entity having all necessary rights to the intellectual property that underlies your business:
Pretty much anything at all
So, yes, it starts with an idea, and it moves quickly to the right team.  But, if the right legal advisor isn't part of your team from early on, you can make some costly mistakes, and, when the investors come to take a close look at your documents, which they will, you won't be ready or look ready!  And, since investors base the largest part of their decision on the team you've assembled, if you look like you aren't ready, that's going to do some damage to your chances of getting funded. So, here are a few things your lawyer can do for you:
Figure out and create your corporate form
Make sure the corporation owns all of the relevant IP
Get your stock issued, and put together an option plan that will help attract good people
Handle the contract aspects of hiring employees and bringing on consultants and advisors
Negotiate and help close service contracts, licensing of related technology
Open up his or her database to other professionals you might need to know
We know that, in the world of Mediated Reality, understanding the license agreements you'll need to enter into just to work on SDKs or to deploy an enabling technology, or to set up your app or store, is critical to good execution of your plan.  Your lawyer can decipher the code buried in the contracts and guide you through the decision-making process. If any of this has made you think about lawyers in a new way, and you might need some advice, feel free to contact me. 
mleventhal@holmesweinberg.com
Posted by lawyeradmin
On May 26, 2017
The case of Apple v. Samsung has the potential to impact the importance businesses place on their design patents. Design patents have been around for over 150 years and in that time have only seen limited usage. Sure, many people or corporations have sued in the past to enforce their design rights with some success, but both the number of design patent lawsuits and the number of design patents granted pale in comparison to those of utility patents. If asked about protection for the visual aspects of a product's design, that same person might then dismissively mention the existence of a design patent before relaying a common view about them: they're easy to get around, but they're cheap and easy to get. This perspective views design patents, at best, a quick way to get a patent number to slap on a product. The negative view of design patents is so widespread that even most designers feel that there is no meaningful way to protect the appearance of a product. This feeling exists in spite of the fact that an entire section of IP law in the United States has been carved out for the protection of a product's visual design. Before we get too technical, patents fall into two major categories- utility and design patents. While methods fit exclusively within the area of utility patents, physical things can find protection on both the utility and design sides. Essentially, the structure or functional elements of a thing can be protected by utility patents, and the physical appearance can be protected by design patents. If there are any features of a product that both functional as well as part of the visual design, you can often find a way to get protection from both types of patents. This alone is a major advantage of design patents over trademarks and copyrights, which both specifically exclude coverage for anything functional. While Apple v. Samsung isn't currently rewriting any design patent laws, it's certainly putting design patents in a position that makes them hard to ignore. Apple's focus on its design rights with respect to a product that is also covered by over 200 utility patents (by Apple's own count) is making people realize that, if you're serious about design, you need to seriously consider design patents. The key for designers going forward is going to be knowing what it means to be mindful about design patents as being a valuable part of the IP portfolio. Unfortunately, I can't simply say that the common, dismissive view of design patents is absolutely false and that filing more design patent applications and suing more people for design patent infringement will fix everything. The fact is that not all design patents are created equal, and that it's really easy to end up with one that doesn't protect your rights well. With a innovative thought process and a little extra effort, it is actually possible to get valuable coverage from a design patent. The problem is that the thinking that design patents are easy to avoid, that they're cheap and that their only redeeming quality is that they're easy to get, are really misconceptions about design patents. These false ideas developed from lack of understanding of design itself. A set of utility claims will include one or more independent claims, which when well-written, will attempt to put the invention, in as broad of terms as possible. Determining how broad claims can be often involves making the claims just narrow enough to exclude any known "prior art," or other patents or products that existed before the claimed product or method. A utility patent's claims can be difficult to understand and are also difficult to write, but they are really the essence of a utility patent. During a patent lawsuit it's the claims that are argued over and the claims that are ultimately infringed or not by the accused product or process. The remaining text of the application is a lengthy written description that can refer to a set of technical drawings included with the application. A design patent by contrast has little writing at all. A design patent relies on sets of drawing figures that illustrate the design itself and act as both the description and claims of the patent. The idea that a design can be partially claimed isn't new. Almost any
patent lawyer Chicago IL
will know that features can be shown in a design but excluded from what's claimed by simply putting those features in dashed lines. A patent examiner won't tell you if your patent is any good or not. The Patent Office is really just a gatekeeper to make sure your application meets their statutory requirements and that you're not trying to claim something that has already been patented or that would be obvious in view of other patents, or what's called "prior art." In fact, it often takes years for representatives of companies that produce and sell products covered by design patents to realize that their patents aren't any good. That usually doesn't happen until they compare their patents to knock-offs. It's at that point that they realize their patent left room for the copyist to make minor changes to avoid infringing, or that their patents allowed competitors to pick and choose a few notable characteristics to borrow. It's important for designers to seriously consider obtaining design patents to protect their work.
Thanks to our friends and contributors from The
Law Offices of Konrad Sherinian
for their insight into IP and business law practice.
Posted by lawyeradmin
On April 27, 2017
by Lisa Dubrow Last month the FTC filed another suit against a group of online marketers for violating the FTC Act and Restore Online Shoppers' Confidence Act ("ROSCA"). The company allegedly marketed golf-related products and cooking gadgets under the names Kitchen Advance; Gourmet Cooking Online; Gourmet Cooking Rewards; Medicus Golf; Kick X Tour Z Golf Balls; Golf Online Academy; Golf Tour Partners; and Purestrike and Swing Clinicbut. The defendants offered continuity plans and trial offers that were touted as risk free and subject to a 100% money back guarantee. According to the FTC complaint, the defendants' websites, TV infomercials, and emails deceived consumers into believing that the products and services advertised were free by failing to clearly and conspicuously disclose that consumers would be charged if they did not cancel the "free trial" or return the "free" product. The FTC complaint states, in part, that some or all of the brand offers:
failed to obtain consumers' express informed consent before charging their credit card accounts for goods and services;
misrepresented that consumers can receive trial shipments for free or for a nominal shipping or handling fee without adequately disclosing that the consumer had to return the shipment at their own expense to avoid additional charges;
did not adequately disclose the terms of their offers before a consumer clicks "add to cart";
made it difficult to return trial products, cancel continuity plans, and obtain refunds;
deceptively placed disclosures about the negative option plans below the fold (i.e., below the portion of a web page a user can see on a typical computer monitor without scrolling down the page) or beneath the submit button before the purchasing decision was made and on the check-out page in another "column";
surrounded disclosures by distracting graphics, advertising claims that were more prominent than the disclosures, and combined them with other issues such as privacy, product availability and warranty terms;
failed to address the lack of adequate disclosure on smaller mobile devices;
used cryptic billing descriptors;
limited refunds to those charged within 30 or 90 days in contradiction to a 100% money back guarantee.
The complaint in this FTC action serves as a roadmap and checklist for legal compliance when running negative option promotions and is yet another reminder of how important it is to comply with the FTC's ".com disclosure" Guidelines on how to make effective disclosures when selling online.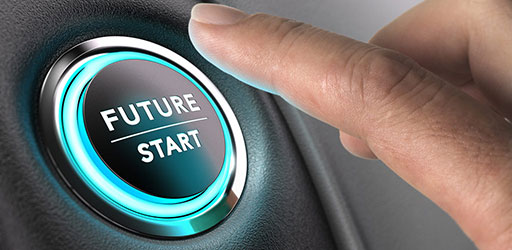 Posted by Michael Leventhal
On March 21, 2017
Hello and Welcome
As this generation of wizards leap forward with new technologies, it seems that every week brings some mind-bending new invention alongside. At the forefront of this movement is the visual unveiling of a world coming into being before our eyes. We are talking about Mediated Reality. As of right now, there are three major subheadings of Mediated Reality: Virtual Reality, Augmented Reality, and Mixed Reality. Each of these holds a different place in the public eye, as well as a different set of possibilities for the future. However, these definitions are brittle, like ice atop the water. One firm wave and they shatter and dissolve. If reading this makes you think,
wow, these guys aren't experts,
then we would say good, because no one is. These are emerging technologies. The first Senate sub-committee hearing on augmented reality occurred in mid-November. Everyone is in a position to influence the future of this enterprise, and we should be excited about this.
Acknowledging that they are going to change, let's define these terms as they stand today. VR In Virtual Reality, a visor comes down over your eyes and your reality is exchanged for the one inside your headset. You might find yourself in the immersive experience of flying a space ship through deep space, or soaring through canyons on squirrel suit wings before parachuting down to the target. In non-wearable devices, VR would be something like a videogame or film, another world you can experience without seeing your own. AR Unless they remember Google Glass, most people were first introduced to the term AR when Pokemon Go was released in the summer of 2016. However, the nature of a nascent industry resides in its capacity for change and redefinition. Now, the term Augmented Reality is limited to products like Google Glass, where what you see in front of you is the "real" world, but there is extra information, such as directions, restaurant ratings, etc. MR The Pokemon Go experience is now most commonly referred to as Mixed reality.  MR differs from AR in that the augmentations in AR are distinguishable from reality (i.e. no one confuses a Facebook notification with something physical). MR, on the other hand, appears to be physical. Objects displayed in MR seem to affect and be affected by their environments, taking up space in the same way physical objects do. They correspond to a determined set of 3D coordinates, which exist virtually, but coincide with the physical layout of our reality. Our Plan This blog intends be active once a week, and we will be using the platform to discuss the future of Mediated Reality. We will be reporting on products and apps, examining technologies as they stand, making predictions about where new tech might lead us, exploring the complexities of virtual ethics and investigating the legal and business implications of the growth of this new industry. As people existing at the forefront of a new era, we have an opportunity (and a responsibility) to come to an understanding of this world we wish to explore. With that in mind, it is time to kick off this new blog for real. Join us next time as we begin to discuss the component pieces of Mediated Reality, starting with Artificial Intelligence. Thank you for reading, The Mediated Reality Law Team
Posted by lawyeradmin
On January 18, 2017
DEAD KENNEDYS. SEX PISTOLS. PUSSY RIOT. Band names are sometimes offensive. They also can be service marks governed by the federal Trademark Act and state trademark acts. On January 18th, the US Supreme Court heard oral argument on whether the disparagement provision of the Trademark Act, which provides that no trademark shall be registered which "consists of…matter which may disparage…persons, living or dead, institutions, beliefs, or national symbols, or bring them into contempt, or disrepute" is facially invalid under the Free Speech Clause of the First Amendment. The responding party, Simon Tam, is the founder of an all-Asian American rock band called THE SLANTS, who has stated that the band intends to reclaim the word "SLANTS," much as the gay community has embraced the word "queer." The dispute started when the US Patent and Trademark Office refused registration of THE SLANTS as a service mark for a musical group. Mr. Tam appealed the decision to the Federal Circuit Court of Appeals, which sided with Mr. Tam, reasoning that while some trademarks "convey hurtful speech that harms members of oft-stigmatized communities," the First Amendment "protects even hurtful speech." Recent Supreme Court decisions also have liberally protected offensive speech, including protests at military funerals, depictions of animal cruelty and lies about military achievements. But, federal registration of a service mark is all that is at issue in this case, so even if SCOTUS upholds the Trademark Office's decision denying registration, THE SLANTS are free to continue using their name. This could prove to be a decisive nuance under a free speech analysis. Ironically, THE SLANTS in 2011 were added to the US Armed Forces Entertainment Roster and invited to perform for active duty troops overseas. So regardless of whether THE SLANTS can attain federal trademark registration of their mark, at least one government agency has embraced the band and its name; and all the publicity around this case can't be hurting their booking calendar.
Posted by lawyeradmin
On December 12, 2016
Dear Friends, As we head toward a new year, we are delighted to share with you some of the exciting news, events, awards, wins and client successes we and our clients experienced during 2016. We begin with our brand-new website! www.holmesweinberg.com. Designed in collaboration with our client Pop2Life (www.pop2life.com), our new website displays our new branding. With clients ranging from under-25 entrepreneurs and creative professionals in entertainment, social media and digital tech to global corporations, our updated website and branding reflect our desire and ability to successfully represent and advise our wide range of clients. If you're not familiar with our full set of services, please visit http://www.holmesweinberg.com/what-we-do/. Michael Leventhal joined the firm as a partner Michael is a veteran technology, business and IP transactional lawyer who most recently served as chief legal officer and Vice President at Magic Leap, Inc., the well-known augmented/mixed reality venture. He has represented dozens of startups as well as Fortune 500 companies, and has been on the forefront of the legal and business aspects of nearly every major technological innovation in digital media. Michael is outside general counsel for several tech companies, assisting them with corporate and IP/tech agreements and issues and is very involved in augmented reality tech law. Recognition for the Firm and Its Lawyers For the fifth year in a row, our Firm has been named to Best Law Firms in America by US News and World Report, and Partner Steve Weinberg was named to the list of Best Lawyers in America for the eleventh consecutive year, an honor which is awarded to only 4% of all practicing lawyers in the US. Partners Henry Holmes, Hillary Bibicoff and Steve Weinberg were once again named as Southern California Super Lawyers ­ Hillary and Henry (both for entertainment law) for the 10th year and Steve for the 5th year (intellectual property and IP litigation). Henry and Steve also were recognized by Who's Who Legal, Henry for Sports and Entertainment and Steve for Telecommunications Media & Technology and Information Technology. Henry and Hillary received the "highest possible rating" by Martindale-Hubbell ­ "AV Premier," and Steve again was named as one of the top trademark law litigators in California and nationally by World Trademark Review (the WTR 1000). Client Successes // Transactions You all know of client George Foreman's incredible success with the "George Foreman Grill," a deal put together by HW partner Henry Holmes. During this last year, Henry negotiated George's deal with the highly successful NBC show "Better Late Than Never" and for a feature film about George's life, and Henry and Steve negotiated a licensing deal for George involving walking shoes (and if you haven't tried George's online food company, the George Foreman Butcher Shop, you're missing out: www.gfbutchershop.com) After successfully representing writer/director Alfonso Cuaron in the highly awarded (including 7 Academy Awards® and BAFTA®) and acclaimed film Gravity, Henry and the team at HW is representing Mr. Cuaron in a new feature film entitled "Roma," which he is producing, writing, directing and editing. We also are representing his son Jonas Cuaron in connection with his writing a new "Zorro" film and in other projects. HW's Hillary Bibicoff represented Rob Long as showrunner for "Kevin Can Wait," starring Kevin James, which has received a full season order, and represented Pam Fryman in her deals for directing episodes of "Odd Couple" and "Man With A Plan." Hillary also represented Jen McGowan who is in pre-production to direct her next feature, "Rust Creek," which is scheduled to commence principal photography at the end of this month, as well as the showrunner of the hit series "The Blacklist," John Eisendrath, in connection with the upcoming "The Blacklist" spinoff (both Mr. Eisendrath and HW client Dan Knauf continue to serve as executive producers on "The Blacklist"). Hillary also served as production counsel for the Super Bowl Pre-Game and Halftime Shows, as well as the NFL Kickoff Celebration for the third year in a row, and also provided production legal services in connection with the Democratic National Convention, and HW client and nationally syndicated "Jump Start" cartoonist Robb Armstrong's book, "Fearless: A Cartoonist¹s Guide to Life" was recently published. HW client and Snapstar Tristan deBurgh aka Tristan Tales, represented by Mike Salvatore, did Snapchat takeovers and promotions for Coca Cola, Just Dance 2017 (video game), Beyond (TV series), Dead of Summer (TV series) and Alice Through the Looking Glass (film). HW also served again as production counsel for The Teen Choice Awards on FOX and represented a number of its producer clients in film, television and social media channel options. Outside of the entertainment and social media worlds, Steve Weinberg, who serves as outside general counsel for LanguageLine Solutions, the world¹s largest language services company, assisted with the sale of LanguageLine Solutions to Teleperfomance, a worldwide leader in outsourced multichannel customer experience (LanguageLine Solutions continues as an operating company within the Teleperformance group of companies). Steve also represented the owner of the LA based Depot Fitness health and fitness group in deals relating to the expansion of the group, a major consumer product company in negotiations regarding the filming of a documentary about the company and its well-known founder, as well as a number of licensing deals for clients in the digital media, mobile app and consumer brand spaces. Client Successes // Litigation 2016 was an active year for litigation. In addition to the many Trademark Office opposition and cancellation proceedings and civil lawsuits still being litigated by HW for its clients, and the literally dozens of trademark and copyright enforcements we handled and are handling for our clients, we won the following important cases (we didn't lose any!): The Ninth Circuit Court of Appeals affirmed the summary judgment decision we obtained on behalf of our client E. & J. Gallo Winery that the trademark EL GALLO for an energy drink infringes the Winery's exclusive rights in the GALLO trademark. The Trademark Trial and Appeal Board of the US Patent and Trademark Office ruled that KARAOKE'S GOT TALENT for talent contests could not be federally registered as a service mark in light of our client FremantleMedia's prior ownership of the AMERICA'S GOT TALENT mark. In ruling in our client's favor following an accelerated trial, the Board held that AMERICA'S GOT TALENT is a "famous" mark, a particularly great part of the overall result. The Board rarely holds marks to be "famous" — a finding that extends the broadest possible protection to a trademark or service mark. HW obtained summary judgment for client KidTribe against the attempt by two former employees to register HOOP IT UP as a service mark for providing educational athletic services to school kids. KidTribe has been providing athletic/empowerment programs for school kids nationally, including at the White House. Unfortunately, the owner had not entered into written agreements with two of its instructors, who decided to abruptly leave the company to start a competitive business, using and seeking to register KidTribe's popular trademark HOOP IT UP. The Trademark Trial and Appeal Board agreed with our client that the former employees could not succeed with their plan. Last but not least, with co-counsel Meylan Davitt, HW obtained summary judgment in our client McKeon Products' favor in the Northern District of California, in which the court held that plaintiff Moldex-Metric's green colored earplug used in industrial settings was not a protectable trademark under the Supreme Court¹s Qualitex Co. v. Jacobson Products Co. and the Ninth Circuit's Disc Golf standards for determining functionality. Moldex touted that its neon green colored earplugs were the best for compliance checks in industrial settings and dominated that market segment. The court held that under these facts, the color green was functional as a matter of law and therefore not protectable. Moldex has filed an appeal of the decision with the Ninth Circuit, which has been fully briefed. Thanks for letting us share our news with you, and thanks to our wonderful clients for trusting in us!
Posted by lawyeradmin
On November 20, 2016
We are delighted to share with you that the Ninth Circuit Court of Appeals has affirmed the decision we obtained on behalf of our client E. & J. Gallo Winery that the trademark EL GALLO for an energy drink infringes the Winery's exclusive rights in the GALLO trademark. HW partner Steven Weinberg and senior associate Michael Salvatore represented Gallo in the trial court and on the appeal.
Posted by lawyeradmin
On November 8, 2016
We are delighted to share that HW has for the 5th year in a row been named to Best Law Firms in American by US News and World Report. From the "Best Law Firms" Press Release: Firms included in the 2017 "Best Law Firms" list are recognized for professional excellence with persistently impressive ratings from clients and peers. Achieving a tiered ranking signals a unique combination of quality law practice and breadth of legal expertise. "U.S. News is the global authority in rankings," says Tim Smart, executive editor of U.S. News & World Report. "Evaluating law firms is a natural extension of what we do best." The 2017 rankings are based on the highest number of participating firms and the highest number of client ballots on record. To be eligible for a ranking, a firm must have a lawyer listed in The Best Lawyers in America, which recognizes the top 4 percent of practicing attorneys in the U.S. Over 10,000 attorneys provided more than 800,000 law firm assessments, and over 10,000 clients provided more than 90,000 evaluations. HW founder Steven Weinberg was listed in Best Lawyers in America for the fifth year in a row.

Posted by lawyeradmin
On September 7, 2016
We are delighted to announce that Michael Leventhal has joined the firm as a partner. Michael is a veteran technology, business and IP transactional lawyer who most recently served as chief legal officer and Vice President at Magic Leap, Inc., the well-known augmented/mixed reality venture. He has represented hundreds of startups as well as Fortune 500 companies, and has been on the forefront of the legal and business aspects of nearly every major technological innovation in digital media. A frequent speaker and author on intellectual property and digital media matters, Michael's extensive experience is described at http://www.holmesweinberg.com/attorneys/Michael-Leventhal.
Posted by lawyeradmin
On May 4, 2016
AND THE WINS KEEP COMING! Following last year's big win for our client E. & J. Gallo Winery against the use of EL GALLO as a trademark for an energy drink (Eastern District of California), HW has recently won three more important cases. In the first, the Trademark Trial and Appeal Board of the US Patent and Trademark Office ruled that KARAOKE'S GOT TALENT for talent contests could not be federally registered as a service mark in light of our client Fremantle Media's prior ownership of the AMERICA'S GOT TALENT mark. In ruling in our client's favor following an accelerated trial, the Board held that AMERICA'S GOT TALENT is a "famous" mark, a particularly great part of the overall result. The Board rarely holds marks to be "famous"; a finding that extends the broadest possible protection to a trademark or service mark. In the second case, HW obtained summary judgment for client KidTribe against the attempt by two former employees to register HOOP IT UP as a service mark for providing educational athletic services to school kids. KidTribe has been providing athletic/empowerment programs for school kids nationally, including at the White House. Unfortunately, the owner had not entered into written agreements with two of its instructors, who decided to abruptly leave the company to start a competitive business, using and seeking to register KidTribe's popular trademark HOOP IT UP. The Board agreed with our client that the former employees could not succeed with their plan. Last but not least, with co-counsel Meylan Davitt, HW convinced the Northern District of California to enter summary judgment in our client McKeon Products' favor, holding that plaintiff Moldex-Metric's green colored earplug used in industrial settings was not a protectable trademark under the Supreme Court's Qualitex Co. v. Jacobson Products Co. and the Ninth Circuit's Disc Golf standards for determining functionality. Moldex touted that its neon green colored earplugs were the best for compliance checks in industrial settings and dominated that market segment. The court held that under these facts, the color green was functional as a matter of law and therefore not protectable. Moldex has filed an appeal of the decision with the Ninth Circuit. Congratulations to our clients and many thanks to them for trusting in HW to represent them.
Posted by lawyeradmin
On February 29, 2016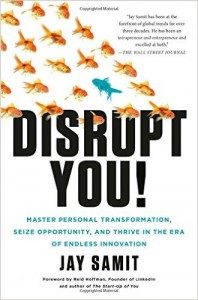 Confession time: I am a voracious reader. I love books that challenge us to think, explore, and expand.  One of the best books I have read, and one that every business executive, marketer, brander, student, and, frankly, everyone must read is Jay Samit's "
Disrupt You!: Master Personal Transformation, Seize Opportunity, and Thrive in the Era of Endless Innovation."  Samit is one of the most successful entertainment and social media industry entrepreneurs in history, and in this inspiring book shows us how disruption is key to succeeding personally and in business.  Disruption has become the business model for making success — looking at what exists and then finding a way to making it better, and then moving the masses to it. One need only look at Amazon, PayPal, eBay, LinkedIn, LegalZoom, Facebook, Virgin, Uber, Airbnb, and dozens of smaller ventures in the for profit and non-profit worlds to see the power of disruption.   Using examples like these and the insights of some of the brilliant people behind them, Samit show us how to successfully disrupt everything, from one's own mindset to traditional businesses to global politics.  For branding professionals, the lessons here if adopted will change how you think about everything, and in a really good way for yourself, your business and your clients' businesses, as well as local, national and global issues that desperately are in need of change. 
Posted by lawyeradmin
On December 23, 2015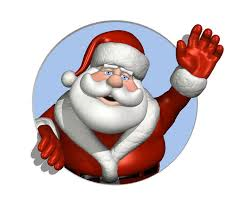 A few years ago, Bankrate.com did a story called Santa's Net Worth and asked me to opine about that value. Bankrate Story. Bankrate.com figured that with all of the Santas at malls, on street corners for charities, at kids' and office parties, in commercials, roaming casinos, and so on, Santa should be raking it in big time from royalties, endorsements and sponsorships. I unfortunately could not be the bearer of jolly news on this one. Santa, the persona, has no claim for royalties because there is no intellectual property protection for the concept of a jolly old man dressed in a red with white trim costume, a large white beard and mustache who runs a children's gift making factory in the North Pole. Concepts, as I covered in an earlier blog post, are not protectable except under laws of confidentiality and trade secrets. And given the public history of the Santa character, there's likely no one who could claim exclusive rights in it. According to various Internet sources, there may have been a St. Nicholas, a monk who lived in what is today Turkey sometime in the late 200's. He was mostly known, according to legend, for saving children from being sold into slavery or prostitution. The name Santa Claus is derived from the Dutch version of St. Nicholas — Sint Nikolaas — which was shortened in early New York days to Sinter Klaas. Washington Irving dubbed him the patron saint of New York in his work "The History of New York" published in 1809. But back then, Sinter Klaas was described by some as a "rascal" with a blue three-cornered hat, a red waistcoat and yellow stockings. The Santa we grew up with was created by Thomas Nash, the then well-known political illustrator for Harper's Weekly as part of a series of illustrations published on Christmas Eve 1862 memorializing the sadness surrounding Union losses during the still raging Civil War. When Christmas evolved into a commercialized holiday starting around 1880 in New York and other cities, Nash's Santa, as shown below on the left in 1881, was adopted as the real deal. But as times changed, and Christmas became more and more commercialized, the idea of Santa the brand ambassador emerged — Coca-Cola hired artist Haddon Sundblom who created the more modern-looking Santa in 1931 for Coca-Cola Christmas ads. That's Sundblom's version to the right of Nash's.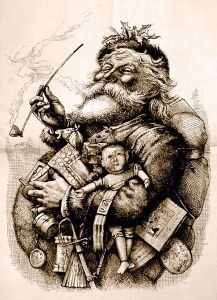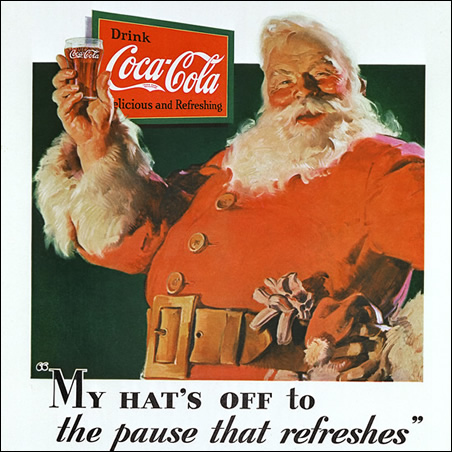 Given this history, can any Santa be protected by intellectual property law? The answer is Yes! While concepts made public are public domain, specific original expressions of a concept can be protected. Thus, when a company decided to use our client Max & Lucy's version of Santa (shown below) without permission for various products, we were able to stop that use under copyright law and happily worked out a settlement that gave our clients a little extra spending money for the holidays.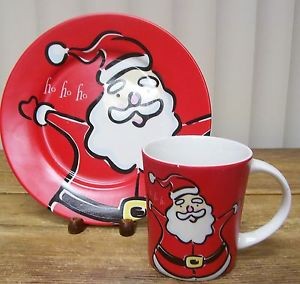 So here's a little holiday tip from me to you. Don't make assumptions about what is or is not protected by law, since you never know until it's often too late. And on that note,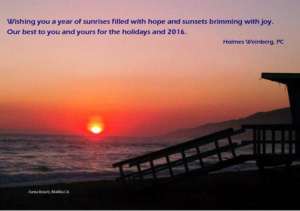 Posted by lawyeradmin
On December 17, 2015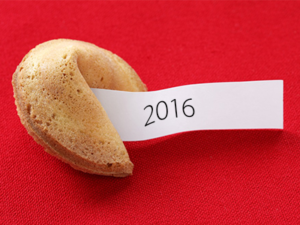 Not unexpectedly, predictions for brands and social media in 2016 are coming our way. In its newest report, eMarketer is predicting that Facebook and Twitter will continue to be the leading social networks for marketers, but both it and SEO consulting agency White Hat Media are predicting rapid growth for Instagram now that it is accepting ads. Of course, with Instagram being owned by Facebook, that change will make Facebook the leader by far for B2C social advertising. See eMarketer Predictions and White Hat Media Predictions. (and thanks to White Hat Media for the cool fortune cookie image above). As one of its major predictions for 2016, Digiday is predicting that brands "will stop trying to be millenials' cool friend." Digiday Brand Predictions. Why? Because as Tanya Dua, the author of the story keenly observes after noting that in 2015, more than 168 brands, including many of the majors, included a lot of mentions of what they considered to be "cool" millennial phrases (like "bae" and "on fleek"): "when a thing becomes cool enough for [brands] to have heard of it, it's probably lost its cool cache. And when everyone's doing it, it completely loses any semblance of authenticity." The real problem for brands was that while consumers at first thought the use of these phrases gave the brands some personality and sass, this quickly was replaced by suspicion and in some cases backlash when these same consumers discovered that these ads were collecting a ton of their personal data with no controls over how the data would be used. This consumer disconnect was the subject of a fascinating article in the New York Times entitled "Sorry, but Your Favorite Company Can't be Your Friend." NYT Sorry Story. As author Josh Barro observed: "A hallmark of communal relationships is that they are not based on exchanges of comparable benefits. That doesn't mean you are supposed to freeload off your friends, but it does mean if your friend drives you to the airport, you are not supposed to give him $80 — you are supposed to do him a favor later, when he needs help from you. Since companies are ultimately in the business of charging their customers for products and services, they are likely to end up violating the communal relationship norms they establish, with charges for services rendered intruding on the friendly nature of the relationship." In other words, friends don't charge friends to be friends (my words, not his). But friends do find ways to help each other out. The best way for brands to do this according to some experts is to provide consumers with functionality that makes use of their apps and ads more friendly and easy to use, like the "Easy Order" button from Domino's that makes ordering a one-click process. There's a charge, but great functionality eases the pain. And given the state of the world, a little less pain will go a really far way.
Posted by lawyeradmin
On November 19, 2015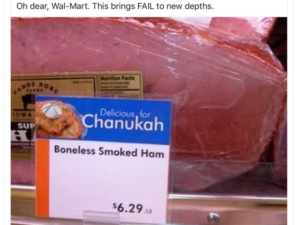 So here's a basic rule: know your customers before trying to sell them. As the comment on this photo indicates, Walmart should have taken a minute to understand that people who celebrate Chanukah likely are not going to be shopping for boneless smoked ham, or any ham. It's a classic example of (1) not paying attention (2) not understanding to whom you are marketing, (3) a prank by an unhappy employee, and/or (4) not caring. All of these ends up in the same place — a negative brand image. Customers love to know that a brand has taken the time to get to known them and their likes and dislikes, and this has never been more true than now, when ongoing intimate customer engagement has become the key to creating and maintaining brand/customer relationships. And given the increasing multi-cultural demographics in today's domestic and global marketplaces, it's more important than ever for brands to take the time to do it right. Which means that brands and the people who work for them need to be educated about, sensitive to and aware of the cultural differences of their diverse customer base. So Walmart, just in case you're listening, don't merchandise steaks to vegans, bacon to pe0ple celebrating Ramadan, white bread for Passover….
Posted by lawyeradmin
On November 4, 2015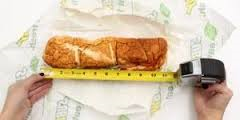 Brands love to tout their product benefits in advertising. The law allows for a certain amount of "flexibility" with the truth but there's a line that can be and often is crossed. Stretching the truth is called "puffery" (as in "We're the Best [fill in the blank]," which is permitted since consumers rarely if ever believe such claims. But if consumers rely on the statement made, and the statement is false, they and competitors have redress. Competitors can bring arbitration-like proceedings through various organizations like the Better Business Bureau or by filing lawsuits under federal or state false advertising laws. Consumers often bring class actions under deceptive trade practices laws. And there are some criminal laws that also can come into play. Last month, a federal judge preliminarily approved a consumer class action settlement against Subway. The "class" consisted of all consumers in the US who purchased a "foot-long" or "six-inch" Subway sandwich between January 1, 2003 and October 2, 2015 — according to the lawsuits, these sandwiches were approximately 10% smaller than advertised. Among other things, the consumer class asked Subway to advertise that the sizes of its sandwiches vary. One of the challenges for brands in our chaotic social media world is that there are folks working inside and outside of the brands engaged in marketing, and the controls over what's being said can be, let's say, loose. With consumers and their advocates screaming for "transparency" (i.e. truthfulness), engaging in false advertising is more than just a legal problem. And brands cannot solve this challenge by getting everyone marketing for them to sign policies — most policies are not followed or understood in many organizations. So brands who really want to make the right points and be true to their brand values need to establish cultures where truth (with maybe with a little bit of puffery) is the standard. The risks? Aside from having to pay out what can be massive settlements, judges can award so-called "corrective advertising" monetary damages — an amount to be spent on counter-advertising that will undo the falsehood. But by far the biggest legal risk is a court issuing an order (called an injunction) that prevents further use of the ad or promo in all media just as the campaign is being launched, and lasts until the trial of the case is done, which can take years. So the next time you want to use marketing that stretches that line a bit, and maybe crosses it, you may want to take a second look and consider whether it's worth the potential fall-out.
Posted by lawyeradmin
On October 14, 2015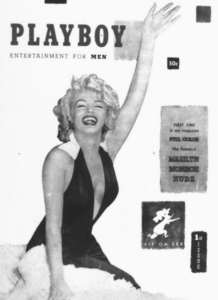 One of the great brands, PLAYBOY, has decided to undergo some plastic surgery. Launched in 1953 featuring Marilyn Monroe on its cover and as its first Playmate, this iconic brand from its beginning redefined sexual culture and launched a national conversation, with us still today, about the roles of and interplay between men and women in our culture. And while over the years the magazine published articles and stories by such lauded authors as Margaret Atwood, Woody Allen and Haruki Murakami and interviews with Malcolm X, Vladimir Nabokov, Martin Luther King Jr. and Jimmy Carter (who admitted lusting in his heart for women other than his wife), and taught men about high style and great jazz and living the cultured life displayed in the televised voyeurism presented in Playboy After Dark, and the hedonism at play behind the walls of the Playboy Mansions, at the beginning and the end of the day it was about the idealized, sexually charged nude women displayed in its pages. That day has come to an end. Like all great brands, Playboy has seen itself in the mirror and decided change was needed. Nudity in modern times had been transformed into pornography readily available on the Web, a commodity which no longer had to be payed for. Faced with this reality and the loss of revenue that went with it, Playboy is redefining itself. There will still be provocative images of women, but now it will be a softer PG-13 version (which still drives revenue, like the Sports Illustrated Swimsuit issue and Victoria Secret ads), but there will be more content that sings to Millennial males — visual art, features about liquor, and the like — an updated lifestyle guide for younger men. Whether or not the brand succeeds in this new face is of course a matter of time. But given the options, as its CCO (Chief Content Officer) Cory Jones said, "it is the right thing to do." Stay tuned.
Posted by lawyeradmin
On October 5, 2015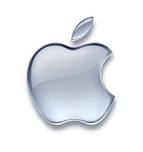 Interbrand, a leading brand consulting agency, has released its latest annual report of the world's most valuable brands. As a sign of our times, the top 6 winners are tech companies. Not surprisingly, for the third consecutive year, Apple took the top spot with Google in second. Apple's value skyrocketed 43% over last year and is now valued at $170 billion. Google increased 12% to a valuation of $120 billion. The other four top tech companies are Microsoft ($67 billion), IBM ($65 billion), Samsung ($45 billion) and Amazon (up 29% to 38 billion and the first time in made the top ten). Facebook, described as a platform and not a tech company, moved up to number 23 ($22 billion, up 54%). Interestingly, Apple and Google are also going electron to electron in competing for retail sales. And given the overall goal of tech companies to share in the online retail market, it's predicted that tracking consumer spending habits online is going to be one of the largest growth areas next year for digital media. The real race is predicted to be between Apple and Google, which alone are the only companies that can effectively scale in both the mobile advertising and mobile device markets. For more on this, see http://digiday.com/platforms/apple-ibeacon-google-tracking-retailers.
Posted by lawyeradmin
On September 29, 2015
With so much attention on social media for brand marketing, you might be surprised to learn that the majority of companies are not relying on social for revenue, but instead for consumer engagement. In fact, recent studies show that social media budgets are still hovering around 10% of the total with most online budgets going to paid ads. But ads are still a challenge – other recent studies show that Baby Boomers and Millennials don't like and are blocking them. And here are some more important stats recently collected by Hubspot (http://blog.hubspot.com/marketing/horrifying-display-advertising-stats?utm_campaign=blog-rss-emails&utm_source=hs_email&utm_medium=email&utm_content=22283717): Display ad viewability rates did not budge between 2013 and 2014. (Source: comScore) The average clickthrough rate of display ads across all formats and placements is 0.06% (Source: Display Benchmarks Tool) Ad blocking grew by 41% globally in the last 12 months. (Source: PageFair) There are now 198 million active ad block users around the world. (Source: PageFair) A 2013 study revealed that 28% of respondents admitted to hiding their activities from advertisers — second only to criminals. (Source: Pew Research Center) A study revealed that only 2.8% of participants thought that ads on website were relevant. (Source: Infolinks and bannerblindness.org) A January 2014 study found that 18- to 34-year-olds were far more likely to ignore online ads, such as banners and those on social media and search engines, than they were traditional TV, radio and newspaper ads. (Source: eMarketer) About 50% of clicks on mobile ads are accidental. (Source: GoldSpot Media) 54% of users don't click banner ads because they don't trust them. (Source:BannerSnack) 33% of internet users find display ads completely intolerable (Source: Adobe) And other studies have shown that Gen Xr's and Millennials really dislike native ads — stories and videos that look like news or objective information but instead are ads. So overall, there are some real challenges ahead for brand digital marketing.
Posted by lawyeradmin
On September 18, 2015
Not to be undone by other celebrity online retail stores, Stephen Colbert has announced his own new online brand, Covetton House. Actually, the brand is a satire of the celebrity online retail world, most of which has been a total failure. Colbert calls the Covetton House a "personal curateable lifestyle brand" which blends "classic Southern living, the breezy charm of the English countryside and whatever they had leftover at the prop warehouse." Typical of his mocking products is "Want," a set of "beautifully hand touched suede coasters" for $175. According to Mr. Colbert, "They're an elegant way to say to guests 'don't get these wet." A video of Mr. Colbert discussing his new brand is at http://digiday.com/brands/stephen-colbert-launches-personal-curateable-lifestyle-brand/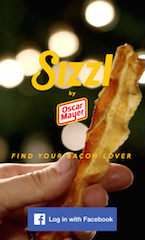 Just when you thought you've seen it all….. Oscar Mayer has debuted a new dating app named "Sizzl" designed to help people find their soul mate using their bacon preferences. According to Oscar Mayer, "Nothing brings people together like a slice of delicious bacon…"In love, as it is in bacon, it's important to be discerning when selecting your perfect match and to never settle for less than the best." Talk about throwing a bone to late night hosts and the world of comedy. And PETA should have a field day with this one. Anyway, I have to stop writing now. The tears of laughter are flowing too hard.
Posted by lawyeradmin
On September 16, 2015
Copyright owners and online media services have been at odds about the responsibility (or lack of responsibility) the services like YouTube, Facebook, Instagram and others have when people post/upload without permission copyrighted content owned by the copyright owners. The compromise (developed earlier for earlier online publishers, like AOL, MySpace, and the like and made part of the Copyright Act with the 1998 amendments known as the Digital Millennium Copyright Act (the "DMCA")) is a procedure under which copyright owners can send takedown notices to the services identifying the copyrighted work and demanding that the offending content be taken off the site, and then the posting party is given an opportunity to respond. In what has become known as the "dancing baby" case, a mom in Pennsylvania who posted a video of her toddler dancing to the music of Prince's "Let's Go Crazy" in 2007 was sued by Universal Music for copyright infringement. The Electronic Frontier Foundation represented the mom (Stephanie Lenz) who obviously was not in the position to do battle on her own against Universal and the Recording Industry of America and the Motion Picture Association of America, which supported Universal. Ms. Lenz' position was that the use of the song was "fair use" and thus not subject to liability. On Monday this week, the Ninth Circuit Court of Appeals held that copyright owners under the DMCA must consider fair use before asking services like YouTube to remove videos posted to the site. The three-judge panel made it clear that paying "lip service" to fair use could expose a copyright owner to liability. However, the Court also stated that in making the fair use analysis, the copyright holder in moving forward with a takedown notice "need only form a subjective good faith belief that the use is not authorized." According to the Court in making sure it was getting its message across is that "To be clear, if a copyright holder ignores or neglects our unequivocal holding that it must consider fair use before sending a takedown notification, it is liable for damages under § 512(f). If, however, a copyright holder forms a subjective good faith belief the allegedly infringing material does not constitute fair use, we are in no position to dispute the copyright holder's belief even if we would have reached the opposite conclusion. A copyright holder who pays lip service to the consideration of fair use by claiming it formed a good faith belief when there is evidence to the contrary is still subject to § 512(f) liability." The Court added that "a copyright holder's consideration of fair use need not be searching or intensive…formation of a subjective good faith belief does not require investigation of the allegedly infringing content," but added that a copyright owner who acts with "willful blindness" with respect to fair use, that is it "subjectively believes" there is a "high probability" that the posted content constituted fair use and "took deliberate actions to avoid learning of this fair use," likely will face liability if it sends a takedown notice. Given the state of the fair use doctrine, which is somewhat in disarray, this should get really interesting. A copy of the opinion is at http://cdn.ca9.uscourts.gov/datastore/opinions/2015/09/14/13-16106.pdf. Posted
Posted by lawyeradmin
On August 18, 2015
Just when you've finally figured out a strategy for Instagram, along comes a new platform to get one's hands and mind around. Enter Periscope from Twitter, now 4 months old and already making its way into corporate branding playbooks. According to the Periscope team, the platform was started on the notion that it would be great fun to explore the world through others' eyes, and more precisely, their live streaming video. And that's the brilliance of Periscope — one can take journeys anywhere through the video lens of others, but you only have 24 hours to catch the live stream, thus, like Snapchat, creating some viewer urgency. The app already has been downloaded over 10 million times. And major brands are playing with Periscope in very creative ways. Nissan and Target are offering fans behind the scenes footage of their businesses, while Taco Bell created a mock press conference about its new breakfast menu item and invited fans to stop by to try a free "Biscuit Taco." DKNY used Periscope to take fans "inside" the company on guided tours, and GE (which also is doing some pretty exciting things on Instagram) has been doing some edgy, very creative things.
Posted by lawyeradmin
On August 6, 2015
One of the ongoing challenges for brands is dealing with negative commentary. If you've watched Jon Stewart's comedic assault on Arby's over the years, you've had to wonder how Arby's has taken it; after all, many of the viewer's of Stewart's The Daily Show have embraced it as their primary source of news and could very well have taken his satirical comments as gospel. Now with Stewart's impending departure from the show (the last one is tonight), Arby's has decided to have what could be the final say, and surprisingly, it's lovely. Check it out here: http://digiday.com/brands/despite-abuse-arbys-thanks-jon-stewart-funny-tribute/
Posted by lawyeradmin
On July 20, 2015
I've been away from this blog for a while winning a lawsuit, doing some cool deals, setting up a new YouTuber business and taking a bucket list vacation.  And now I'm back with a lot of new posts coming your way. In my last post, we started unlocking the world of intellectual property, starting with the basics of protection for ideas and expression, the center point of what is loosely referred to these days as "content." As we saw, the spectrum of protection from new ideas to creative expression to invention varies. In future posts we'll examine these areas, primarily copyright, in more depth, including important exceptions like fair use – how much of other people's stuff can you use without worrying about a lawsuit. Today's post moves from ideas to brand protection. Starting with the basics, the legal epicenter of a brand is the symbol or symbols by which the brand is recognized. These can be:
Words (AMERICAN IDOL)
Names (GEORGE FOREMAN)
Designs (NIKE SWOOSH, SUPERMAN illustration )
Logos (the McDonald's Golden Arch)
Combinations of names and designs (the word BAREFOOT and foot design for wines)
Packaging designs (the Jack Daniels bottle design)
Color (pink asbestos, Tiffany blue)
Product shapes (the Coca-Cola bottle)
Sounds (the NBC chime)
Scents (plumeria blossom scent for yarn)
Domain names (usually a dot something version of a word trademark)
and anything else by which a brand can be recognized and understood to be the designating symbol of a single source. The "single source" piece is critical — if the same designation is used by different sources for products or services normally associated with each other (for example, sweatshirts and running shoes), it's status as a brand is diluted or lost.  For example, NYLON was once a brand and later became public domain. The technical legal term for this kind of symbol, when used for products, is a 
trademark
 (derived from the "mark of one's trade", the earliest trademarks being product guild marks) and when used for a service, a 
service mark
 (for ease of reference, I'll refer to both as a trademark or a mark). In the United States, rights are obtained by actually 
using
 the trademark or service mark, although exclusive national rights are easiest obtained through the federal registration system. Outside the USA, with few exceptions, rights are only acquired through registration, and then on a country by country basis, the exception being the European Union, which grants rights in a mark that covers all of the countries in the Union. In the US, you can use the ™ symbol for any name or other designation you 
consider
 to be a trademark (or the SM symbol for service marks) without first getting the mark registered. The ® symbol can only be used when registration is secured. Note that there is no such thing as "trademarking" something – the trademark is the designation itself and registering is what you do to get state or federal exclusivity. But just getting registration is NOT enough to stop someone else from using the same or similar mark.  This concept of not being able to automatically win a dispute with a third party, which also applies to registering copyright claims and obtaining a patent, is very troubling to many people who are able to obtain these registrations.  The law requires more — in the case of trademarks, that the other's use is likely to cause relevant consumers to mistakenly believe that there is a connection or approval between the uses; in the case of copyrights, that the copy is "substantially similar" to the copies work (there' a similar standard for design patents) and in the case of patents, that  the alleged infringer is making, using, selling, or offering to sell a patented invention, or importing into the United States a product covered by a claim of a patent without the permission of the patent owner.  Infringement lawsuits can, and often do run into the millions of dollars. Getting back to trademarks, the law  is very complex and, like all intellectual property, is evolving. There are lots of misconceptions ad bad information in the blogosphere about trademarks, so
 caveat emptor
 (beware) when it comes to the info. A good place to get an overview is the federal Trademark Office website 
www.uspto.gov
. And of course, you can always call me. More in the next post in this series
Posted by lawyeradmin
On April 22, 2015
My grandfather used to say "confusion rained and we all got wet." That seems to be the case for most people trying to get a handle (not the Twitter type) around understanding intellectual property law. It can be confusing, especially these days when everything seems to intermix. So here goes what I hope is a digestible, and brief, explanation. The word "intellectual" in "intellectual property" is used to distinguish these kinds of non-physical properties from tangible "personal property" (physical things we own) and "real property" (real estate). Intellectual property is not physical in nature, being "intangible" in nature.   Intellectual property sometimes is called "intangible property." There are a number of different kinds of intellectual property: (1) original ideas and concepts, (2) ideas and concepts that result in inventions, (3) creative expression of ideas and concepts, (4) brand names and other brand indicia (like logos, designs, etc.), and (5) certain personal rights, including (a) the right to use our names and likenesses and voices for commercial purposes, and (b) not allowing others to destroy the integrity of the way we express ourselves creatively. Each of these, and the rights in them, is legally differently. Some are protected only under state laws, some only under federal law, and some under both. Internationally, each country has its own laws, although there is some harmony between the patent, copyright and trademark laws of most countries. The following discussion is limited to U.S protection. (1) Original Ideas and Concepts. These get almost no protection and what little there is varies from state to state, with no federal protection unless the idea or concept satisfies the requirements for federal patent protection. The Copyright Act expressly excludes concepts and ideas; I can't tell you how often I have to sadly inform a client or prospective client that I can't copyright a concept, no matter how brilliant and creative. And contrary to popular belief, merely identifying an idea or concept as "proprietary" does not create any legal rights. Some states will protect original ideas and concepts if there is an agreement between the parties in which it is agreed that the idea or concept is original and has to be kept confidential. Most states require that the agreement be written and entered into before the idea or concept is disclosed to the party charged with keeping it secret. Some states require that the idea or concept be more than merely original – that it also be "novel." In some states, like New York, there is some older law that protected ideas for television formats and concepts, but that has been eroded over the years. California now requires written confidentiality agreements, and there is recent law indicating that the idea or concept has to be a "trade secret" as defined under the Uniform Trade Secrets Act. The bottom line is that before you give away your great new ideas and concepts, make sure you find out and do what the law requires. Because once the "secret" is out, it's out. And there goes your protection. (2)      Inventions. These are the subject of patent law, which is only federal. A patent grants a bundle of exclusive rights in inventions, which are defined as ideas, concepts, functionality, methods and processes that are "novel," "non-obvious" and "useful" as well as novel designs of useful articles. The monopoly created by patent law is the strongest in our law, and thus patents are hard and expensive to get and are for a limited duration. There are very stringent requirements for obtaining patent protection and the process is expensive and usually quite long – from start to finish could be over a decade. And even if you are issued a patent, it is subject to challenge. Merely filing for patent protection does not create any rights; while it allows you to identify the subject of the patent application as being "patent pending" all that does is put the public on notice that if the patent issues, anyone who has been commercially exploiting something covered by the patent may be liable for patent infringement and money damages dating back to when the notice was provided. If you are lucky enough to get patent protection, it can be a very powerful and lucrative tool. Given the expense and length of time in obtaining a patent, there is always a cost/benefit analysis required before embarking on that route. Useful information about patents can be found on the US Patent and Trademark Office website, www.uspto.gov. (3) Expressing Ideas. How we express our ideas and concepts creatively is protected by copyright law if the expression is "original" (not copied substantially from another source) and not ephemeral in nature—it has to be "fixed" in a "tangible medium." Since 1978, copyright protection is federal alone (with some exceptions). The subject matter of copyright is listed in Section 102 of the federal Copyright Act, and includes everything we refer to as "content" in the entertainment industry (text, still images, video and film, music, choreography, and more (maps, choreography, software programs, graphs, pantomime and architecture). Copyright rights are created from the moment the copyrightable subject matter (called "works") are created and fixed – registration is voluntary but necessary to acquire certain valuable rights and to file copyright infringement lawsuits. The exclusive rights under copyright are the rights to reproduce (make copies) of the work, to make derivatives of the work and copies of the derivatives), and to publicly perform, publicly display, distribute and transmit the work and its derivatives. These rights are "divisible," meaning that they can be broken up in different ways and each right can be owned separately. For example, the author of a novel can grant licenses to different persons to respectively make a theatrical film, a television series, a television movie, a Broadway play, a sequel or prequel, and so on.  If the license is exclusive, the exclusive licensee is the "owner" of that right (I will be posting a separate article about licensing).  Ownership is a major issue under copyrights, with lots of rules and exceptions to rules.  An important point to keep in mind is that copyrightable work product created by employees is owned by the employer, but work product created in whole or part by non-employees is owned by the non-employee unless there is a written document signed by the non-employee making it clear that the work being created is a work for hire and in any event all of the non-employee's rights in the work is being assigned and upon completion will be assigned.  This assignment language is necessary since not every work is a work made for hire. [article continued in the next post]
Posted by lawyeradmin
On April 9, 2015
Not too long ago, the folks in charge of internet domain names opened the door for a whole batch of new gTLDs – the letters that come after the dot. The newest entry causing heads to spin in the branding world is the gTLD "dot-sucks" (.sucks). The registry behind this, Vox Populi Registry, is calculating that brands are willing to pay a fee to register their brand names with it to prevent others from grabbing their names and attaching a .sucks. The strategy includes charging a "basic" fee of $2499 to register each brand with the registry. A number of brands have taken the bait. Some of these can be seen at 
https://www.nic.sucks/media
. Is it worth paying what some are calling extortion? That all depends on your perspective. Years ago, when some people unhappy with a brand launched complaint websites with domain names like 
www.[brand]sucks.com
, the majority of courts and arbitrators decided that as long as the website was a legitimate complaint site about the brand, this use was a fair use and not a trademark violation. That being said, aside from the short term notoriety some of these cases enjoyed in the media, nothing really came of it – merely having a website doesn't mean people will go there. And they didn't. The same may be said of.sucks. While branders and marketers likely would not want to see their brands attached to this four letter dot-word, there is a strong probability that unless it is used for a legitimate gripe site, it won't withstand challenge in the courts and few people likely will visit it. Of course, social media (which was not around in the early days of these disputes) might be used to get more people to visit the site (I can see the tweets now — "if u think [brand] sucks visit #[brand].sucks"), but the numbers likely will still be minimal. On the other hand, if one is particularly concerned about one's brand image, it's cheaper to register with this registry than to litigate the matter (although, I can tell you from experience that most internet wise guys fold after a complaint is filed, which is cheaper than the registration price). If you're interested in registering your brands, the "sunset" period for getting advance registration is May 29th. More interesting to me is the availability of picking up generic, but possibly more valuable .sucks domain names like life.sucks and divorce.sucks (these particular names are the examples provided by the registry on its website). These of course carry a premium price. But just think of the possibilities…..
Posted by lawyeradmin
On April 6, 2015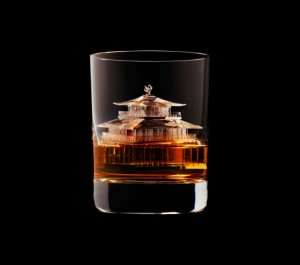 3D printing, the remarkable technology that keeps reaching new, incredible heights, including inexpensive prosthetics (for example, check out this story: http://www.nytimes.com/2015/02/17/science/hand-of-a-superhero.html?_r=0), has been used by ad agency TBWA\Hakuhodo to create highly sculptured ice cubes for Japan's Suntory Whiskey.  The cube designs ranged from the classic Japanese palace seen above to Batman's visage.  The campaign launched in 2014 and won a gold award for design from Adweek as well as a Branded Content & Entertainment Lotus trophy at the recent Asia Pacific Advertising Festival in Thailand.  Being a scotch drinker and aficionado of brand innovation, I just had to share this.  For more information about the technology and visuals of some of the other ice cubes, go to http://www.adweek.com/adfreak/suntory-whisky-3-d-printed-worlds-most-incredible-ice-cubes-163782 .
Posted by lawyeradmin
On March 27, 2015
The incomparable brand phenom Taylor Swift recently filed dozens of trademark applications in the US Patent and Trademark Office to register a number of her song titles and her initials for a fairly wide variety of goods and services. By way of example, she's seeking to register "Party Like It's 1989" for educational and entertainment services, all kinds of online content and content delivery systems, contests and sweepstakes, retail store services, toys, Christmas tree decorations and more. These filings generated a lot of press, some positive, some negative. Gotta love the media, most of whom in their coverage of Ms. Swift's filings evidenced a lack of understanding of brands and how to protect them. Her strategy is right on; in fact, she is not the first performing artist to expand their legal brand presence in this manner. Jimmy Buffet is by far the Heavyweight Champion in this arena, with over 300 registrations and pending applications. One of the niceties of our trademark registration system, which was updated to meet world standards in 1989 (one of the reasons for partying that year), was to allow for the filing of trademarks for goods and services we intend to use them on. So if a brand is planning a fairly extensive licensing or sponsorship program, for example, it's not unusual for that brand to file applications for as many goods and services as such a program might allow. Our clients like FremantleMedia, owners of the brands "American Idol" and "America's Got Talent" (and many others) routinely do such filings. Plus, all you need to do to file these applications is to have a "bona fide" intent to use the mark for the goods or services applied for, but actual use is a prerequisite for obtaining a registration in the US (but not in most other countries). So if it fits what you do, go for it.
Posted by lawyeradmin
On March 2, 2015
As we move forward in this new year, with the list of Oscar® winners now becoming a fleeting memory, we can turn our attention to other lists of interest to branding professionals. Hot off the presses is a list of the top 50 Millennial brands. The results of 2015 poll conducted by Moosylvania, a digital ad agency, of one thousand Millennials ( a US population of about 73 million with $170 billion in purchasing power) revealed their top 10 brands to be (in descending order): Nike (and its Swoosh Logo), Apple (and its Apple logo), Samsung, SONY, Walmart, Target (and Target logo), Microsoft, Coca-Cola, the Air Jordan logo, and Pepsi. The most important characteristics shared by these brands, in descending order of importance to the survey respondents, are : (1) they are high-quality products or services (2) they are products or services that the respondents would recommend to others (3) the brand fits their personality (4) the brand shares their sense of social responsibility (5) the brand shares similar interests, and (6) the brand says important things. 
http://moosylvania.com/millennials/Moosylvania_Millennial_Study_2015.pdf
.  Matching some of these brands to some of these characteristics is, at least to me, surprising.  However, given that each of these are iconic lifestyle brands that likely were introduced to these Millennials very early on in their lives and stayed with them, the results make sense. Interestingly, only a few of these, according to Forbes in 2014, are among the "world's most valuable brands": Apple, Microsoft, Coca-Cola and Samsung. The other six in the Forbes top ten are Google, IBM, McDonald's, General Electric, Toyota and Louis Vuitton. 
http://www.forbes.com/powerful-brands/list/
. Wall Street also has a list – of the brands most likely to disappear in 2015 because of mergers and consolidation or, to be kind, it's their time. This list includes well-known brands like Lululemon, Warner Cable, Zynga, and Blackberry. 
http://finance.yahoo.com/news/10-brands-disappear-2015-172428388.html
I didn't find any recent studies of the favorite brands of the largest population with the largest purchasing power in the US: the "Baby Boomers" (people over 50). However, a 2012 Nielsen study identifies this group as "marketing's most valuable generation," yet under-served when it comes to brand marketing. The study does identify what this generation likes from its brands, with many of these traits in synchronicity with those of Millennials; however, the study also shows that Boomers are not easily enrolled or maintained as brand loyalists– brands have to work hard to convince them that there's value to be had and, more importantly, kept.  And unlike prior "aging" generations, Boomers are tech savvy,  are healthy (for the most part) and are voracious consumers. In essence, they don't see themselves as aging and place heavy emphasis on being, and remaining, youthful. 
http://boomagers.com/sites/boomagers/files/Boomers_-_Marketing's_Most_Valuable_Generation.pdf
Guilty as charged.
Posted by lawyeradmin
On February 17, 2015
Remember last year's Super Bowl Oreo tweet during the blackout?  This year's entry for Twitter brand brilliance was during another major contest — the Grammy Awards.  Australian superstar rapper Iggy Azalea earlier that day sent out a tweet to her 4.2 million fans decrying that a Papa John's delivery person made her cell phone number public, resulting in a flood of calls to her.  Not amused, she tweeted "@PapaJohns was my favorite pizza but the drivers they use give out your personal phone number to their family members."  Papa John's response, rather than being hat in hand was tongue in cheek: it replied "@iggyazalea# We should have known better. Customer and employee privacy is important to us. Please don't #bounce us!", the Bounce reference being to Ms. Azalea's hit tune by that name.  The crisis management team at Papa John's apparently was out on a break.  Ms. Azalea didn't think that humor was the right response and sent out more tweets criticizing the pizza company's lack of seriousness, and additional tweets from the company only made matters worse.  Enter competitor DiGiorno Pizza, now with the potential of reaching 4.2million new fans while its competitor crumbled, and tweeted "@IggyAzalea delivery.smh" — "smh" being text slang for "shaking my head."  A very pleased Ms. Azalea, delighted with her new BFF, tweeted back ""@DiGiornoPizza I know right!" As the musical group the Byrds once sang, "there is a time for everything…." but there definitely are times when brands should not try being funny.  With privacy being one of the front and center issues of our time, when a celebrity publicly complains about a privacy invasion by a brand, that's serious, and  not an opening for a one liner.  And getting pie in the face can't be the brand image Papa John's was hoping for.
Posted by lawyeradmin
On February 12, 2015
Ah, Valentine's Day. Romance is in the air. And hearts are everywhere. On cards and gift boxes, in tweets and other social media, in emails, on restaurant tables, in print ads, banner ads and as candy and jewelry. But before you rush out to add a heart design to an e-card, an email, a Facebook or Tumblr or Instagram post, or anywhere else, you need to consider this – is the design yours for the taking? Or will you be committing an illegal act? To fully understand the looming legal implications, it helps to know how hearts became part of St. Valentine's Day. But to do so I need to lay a proper foundation (I am a lawyer, after all). We start with St. Valentine, previously known as Valentinus. Sorry to say, his story is not at all romantic. According to reliable sources, he was a Roman priest and physician who was arrested, condemned to death for his faith, beaten with clubs, and finally beheaded on Feb. 14, AD 270. Not romantic by any definition. But as it turns out, February 14th was the eve of the Roman festival of Lupercalia, celebrating the god of fertility, which was quite erotic in nature. Part of the celebratory tradition was the drawing by young men of lots with the names of women who would be their "romantic" partner for the evening, or longer. The church, unable to stop this highly enjoyable (apparently by both sexes) custom, decided to find a saint to patronize the day, choosing Valentinus, who became the patron saint of lovers. It thereafter became a tradition to exchange with one's actual or fantasized beloved handwritten messages of amour on February 14th, the day of St. Valentine. The origin of the use of the heart shape for this lovely day, however, is less certain. Theories range from its being in the shape of a plant (silphium) used as an herbal contraceptive in ancient times, to various shapes associated with certain parts of the female anatomy. The shape of Cupid's arrows, as depicted in many Renaissance paintings, also is a possible source. And some believe it to have originated with the shape of swans – long associated with St. Valentine's Day – kissing, which is heart-shaped. Whatever the origin, the use of the heart shape for St. Valentine's Day is now part of our culture and ubiquitous. But as popular as heart designs may be, not all are in the public domain. Original heart designs are protected by copyright law; "original" meaning not substantially copied from some other source. Thus, while the basic heart shape is available for all to use, original variations on it are not, unless they (1) no longer are protected by copyright either because of age or failure to protect, or (2) have been donated by their owner to the public for use, such as publicly available clip-art. There is in fact no way to know for sure if a particular heart design is protected by copyright since one does not have to use the official copyright notice (the one with the ©) or obtain a federal copyright registration. Copyright since 1978 in the US (and longer throughout much of the world) attaches to a protectable design from creation; a registration merely endows it with some important additional rights. And it's not just Valentine's Day heart designs that are protected. My LA-based client Nina B. Roze created and successfully markets legging products that frame the buttocks area with a heart shape, that not only is protected by copyright law, but by trademark law as well. Other heart designs also function as trademarks, such as the heart tummy design on the Care Bears "Tenderheart Bear," the rights in which I spent many of my days as a young lawyer protecting. And my little cuddly friend is not alone; there are many intellectual property disputes involving heart-shapes and there currently are over 10,000 designs comprised in part of heart shapes sitting on the trademark register of the US Patent and Trademark Office. So who owns your heart? You do, except perhaps on this romantic day, when someone else may have stolen it. But when it comes to heart designs, do a little bit of checking first to ensure that the heart you may be stealing does not come with a cease and desist.
Posted by lawyeradmin
On January 30, 2015
As we head into Super Bowl LXIX weekend, I thought the following might be of interest. Digiday posted a fun article entitled 5 Super Bowl Myths Debunked (http://digiday.com/brands/5-super-bowl-myths-debunked). Here's what's interesting from a brander's perspective: (1) Super Bowl ads have higher recall than ads in general BUT (2) get them shown by 9PM eastern – most viewers have stopped watching by then!, and (3) sexy ads and celebrity ads don't do as well as non-sexy, non-celebrity ads. But is it really worth the money to have a commercial on the show? Check out this story, also from Digiday, which shows how that same money might be spent in social media and other online venues (http://digiday.com/platforms/cost-super-bowl-ad-can-buy-online/). Getting back to the 5 myths, from a social perspective, I found these interesting: (1) most people watch the event alone or with one other person and not with tons of friends or in sport bars, and (2) and this is a big one – vegetables, not wings, are the most consumed food of the day! Whether or not beer and alcohol consumption makes up for the veggies from a caloric POV was not studied, however. Turning to a specific ad, GoDaddy's attempt to spoof Budweiser's highly successful Super Bowl puppy commercials was pulled because puppy lovers everywhere were horrified by what looked like puppy cruelty. The GoDaddy ad's YouTube video had more than 800 comments, most trashing it; #godaddypuppy on Twitter skyrocketed with tweets, a petition calling on the company to kill the ad garnered more than 42,000 signatures. PETA, which admitted it "liked" that the ad because it showed that anyone who sells dogs online is "a callous jerk," nonetheless echoed the other critics. The reality is that the GoDaddy dog, Buddy, was treated very nicely during the filing, and is now the official GoDaddy "Chief Companion Officer." Sweet. And kudos to GoDaddy for pulling the ad. The GoDaddy ad raises the legal issue of parody. Legally, parody, satire and criticism are not the same, having different legal standards. Legally, parody does not mean "funny." It has very specific meanings under copyright law, trademark law and privacy/publicity laws, as does the broader legal doctrine of "fair use." I'll be addressing these in posts to come; for today, I'm just planting the seed that in making videos and other content, just because you're poking fun doesn't mean it's legally OK. And on that note, have a great weekend.
Posted by lawyeradmin
On January 27, 2015
When you think of your favorite brands, what is the first word you associate with them? According to psychology Professor Paul Bloom of Yale, the word we all associate with our favorite brands, even if subconsciously, is "pleasure." We all seek pleasure in our lives. How we define pleasure is of course subject to individual variance. But pleasure, however defined, is what we seek, as well as all of the satisfying feelings and emotions that go with it. The knowledgeable brands know this, and capitalize on it. Using imagery, music, words, sights, smells, and taste, they create around the brand, and infuse it with those stimuli that trigger any number of perceived pleasure points in our psyches, moving us closer to embracing the brands into our lives. Making them part of who we are, who we imagine ourselves to be and how we want others to see us. And as an extension of our pleasured selves, we endow on them immense legitimacy. Professor Bloom in a recent NPR TED Radio Hour, http://www.npr.org/programs/ted-radio-hour/308752278/brand-over-brain, gave an example that all of us with kids know only too well – if you can't get kids to eat something, just tell them it's from McDonald's®! Why? Because in a kids' world, just the thought of that brand, and all of the memories of happiness that go with it, strongly bolstered by lots of impactful advertising and promotion, not to mention the smell of those fries, brings immediate pleasure and legitimacy. Adults who purchase by brand behave pretty much the same. We purchase certain brands because having that branded product brings pleasure. It can be in the form of feeling safe – for example, many people will buy a branded product and not the absolutely identical store brand, at much higher price, because they assume the branded product is a safer, more legitimate choice. Other brands induce feelings of social acceptance, or of living a fantasy, or, analysis aside, just feeling really, really good. Even if we know all of the brand imagery is mere fantasy, and what is promised will never really occur – honestly, will we really become immensely rich and fly into the wilds of Africa in our private plane dressed to the hilt with expensive safari clothes and luggage with the person of one's dreams hanging onto us with seductive smiles and loving eyes merely by buying Ralph Lauren® luggage? — we allow ourselves to drift into the pleasure of that fantasy, believing at some level that if by some toss of the cosmic dice this all could come true, buying the brand is the ticket. And just by buying the brand, tagged by these thoughts, we experience pleasure. Where the carriage transforms back to pumpkin is when the brand makes lots of pleasurable promises up front, but then fails to deliver. How quickly pleasure is lost when dealing with terrible customer service. Or with warranties that aren't honored. Or the texture, taste, or smell of the product is not what is promised. Or product defects. There's little worse than having one's pleasure, one's fantasy, one's high expectations, destroyed with harsh reality. And that's where the truly great brands make their strides. Brands like Zappos® and Amazon® Prime, which have redefined customer service. Or (most of the time) Starbucks, which by inviting us into the fantasy it created, changed how we drink coffee and publicly commune (and learned that free WiFi brings even more pleasure). Brands that understand the pleasure principle know that they need to follow through, and keep the happiness factor high if we are going to come back to them. And in these days of real-time, viral, uncensored criticism, brands that don't deliver on their promises will not survive. Those of us who protect brands for a living know this well. We fight to keep the brand's reputation intact, or, unfortunately in too many cases, fight to overcome the damage that's been done either by themselves, their co-venturers, their competitors, their critics, or unhappy consumers. We have a much better chance at prevailing if the brand's behavior has been consistent with its enchantment; it's tough to win over a judge or jury when their experience has been the same as the disenchanted consumers. And so there is every reason for a brand to deliver on its promises. And that, my friends, is not fantasy.
Posted by lawyeradmin
On December 3, 2014
There are a number of ways to grow a brand from its core product or service (for brevity's sake, throughout this blog, I refer to both as "products"). Two prevalent forms are licensing the brand and brand extension. In licensing, the brand owner gives permission to third parties to make and market products under the brand in categories not necessarily related to the category(ies) in which the brand is established. Success for the licensing model depends in large part on the third party's expertise and reach in sourcing and merchandising in specific products categories and often in specific channels in specific countries. The entertainment, art and fashion (designer) industries employ licensing extensively, which is how one gets, for example, Mickey Mouse® toothbrushes and Ralph Lauren® just about anything lifestyle. Iconic consumer brands also have used licensing to move into new categories where they can rely on their brand strength. Two great examples are Arm & Hammer® air filters and Tide® dry cleaning establishments. (I've been involved in licensing for 30 years, as lawyer, brander and agent, and will have a lot to say about it in a future post.) The subject of today's post is the other major model – brand extension. Unlike licensing, which usually takes brands into new categories, brand extension occurs when a brand with success in a category is extended to a new product or product line within that category or to an entirely new product that expands the category (the latter called "brand expansion"). Not a "new and improved" version of an existing product, but a new product that is designed to meet or create a new consumer driven need or a perceived new need. A successful example of brand extension is Reese's® Minis — moving from full size to a mini size. There are dozens of books and even more blogs about how one successfully can expand a brand, but there's probably no better way of doing it than studying how others have done it well, or not, and then integrating those learnings into one's own innovation process. Starting with basic notions, such as branding guru Marty Neumeier's brand strategy of "zagging" when others are zigging (his book "Zag" is a must read), is of course necessary to innovating, but taking away the learnings from real examples helps to frame a collaborative process that is likely to lead to marketplace success. And of course there are the important legal considerations as well – starting with determining whether the name for the extended product is available for use and subject to trademark protection in all of the countries where it will be marketed. Or deciding not to seek protection for the extension name. For example, when DuPont invented what became popularly known as "polyester" it decided to give that word away to the public so that the new brand name Dacron® would not become generic for this new invention. The Nielsen company, the same folks who bring us TV ratings, has been publishing very useful reports related to brands and consumers. In its recently published 2014 "Breakthrough Innovation Report," ( to download, go to: http://www.nielsen.com/content/corporate/us/en/insights/reports/2014/breakthrough-innovation-report.html) it tells the stories and analyzes the teachings of what it characterizes as "Breakthough Winners" — 14 of 3463 consumer products launched in 2012 that "delivered a new value proposition to the market," "generated a minimum of $50 million in year-one U.S. sales" and "achieved at least 90% of year-one sales in year two." One of the more important lessons to emerge from this report, combined with the results of earlier studies, is the conclusion that real extension/expansion innovation is defined by consumers. As Nielsen concluded: "We have found a consumer-centered behavioral definition of innovation turns out to be the only really reliable one when establishing criteria, beliefs, and mental models about what is and what is not 'innovation.' The right question and the trustworthy guide is 'does the brand offer a benefit bundle that brilliantly performs an important job in consumers' lives for circumstances in which previously available solutions were unsatisfactory or nonexistent?' When consumers discover brands that reliably perform important jobs for them, they pull these brands into their lives again and again." Wherever Steve Jobs may be, he's certainly smiling.
Posted by lawyeradmin
On December 1, 2014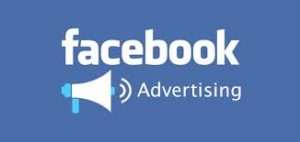 I recently searched the phrase "social media marketing challenges" on Google® and Bing® and got back a low of 44 million hits (Bing®) and 99 million hits (Google®). These results are not at all surprising given the constantly changing social media environment, the diversity of consumers using these platforms, and the overwhelming clutter in this space. There is strenuous debate about which forms of advertising and promotion work best, for example, banners vs. contests vs. native, and how to determine if all of the effort is even working – there are constant changes in measurement and standards to be measured. One of the constants over the last few years is that Facebook® is by far the largest social network and, according to at least one source, is the most popular social media platform in the U.S. with nearly 60% of all visits to social media sites being to Facebook.® (Statista – chart of most popular social media websites in the US in September 2014 based on share of visits http://www.statista.com/statistics/265773/market-share-of-the-most-popular-social-media-websites-in-the-us/). Given these numbers, branders share the need to be successful on Facebook®, both for building brand awareness and for sales. And for years, Facebook® has been holding out the torch to marketers, urging them to abandon ads in favor of content, especially native/organic sponsored stories. And so followed the faithful, with lots of sponsored stories filling the pages. We've all seen them and debated both the ethics and the legality of these sponsored videos and stories, but overall we came to accept them. Starting in January, we may see some dramatic changes. Two weeks ago, Facebook® announced that it would decrease the effectiveness of brand posts it decides are "too promotional."  And how is that to be defined? We are given some clues based on the results of "people" Facebook® surveyed (https://www.facebook.com/business/news/update-to-facebook-news-feed): 1. Posts that solely push people to buy a product or install an app 2. Posts that push people to enter promotions and sweepstakes with no real context 3. Posts that reuse the exact same content from ads While these seem fairly obvious, our friends at Facebook® don't tell us more, other than giving us the ominous line that "All of this means that Pages that post promotional creative should expect their organic distribution to fall significantly over time." Note the absence of the word "too" in this warning. While lawyers make their livings arguing over the meaning of words, and mind you I'm not complaining, brands investing in social media marketing on this leading platform need to have more definition. Especially since the arbiter of what is or is not too promotional is an algorithmic exercise. And some marketers are reading this message from Facebook® as telling them that they will have to abandon all of the fans they have been building over the last few years using the kind of content Facebook® is now saying they can't use. And what about the real consumers who "liked" the kinds of organic stories they were getting from these brands? On the other hand, will this lead, as Facebook® claims it will, to better quality ads and happier consumers or, as others believe, merely to more paid promotion to Facebook® by brands that can't afford the expense of producing acceptable ads? I'm frankly not advocating one approach or the other; what I do know (see my next post) is that brands need to satisfy consumer demands to be successful, and having a middleperson censor ultimately may not be a win-win-win.
Posted by lawyeradmin
On November 20, 2014
There are many ways to describe what makes a great brand. Being a sailor, I often think in terms of sailing imagery. In that context, imagine the marketplace as a dense fog, filled with names, logos, messages, information, content, and massive overload. A deep, dense, grey fog, where nothing is delineated clearly, and everything blends into everything else, and there's no way to determine where you are in it. Just dark, damp, wet and cold. A great brand is the bright, constant, clear laser-like light from a lighthouse, cutting deftly and purposely through the fog. Creating an unmistakable path of safety. Creating in the beholder feelings of joy and relief, knowing that following that light will lead out of the dread of the fog to a place of happiness, safety and security. So now that we know the vision and the mission, how does one create a great brand name that generates such clarity and joy? This is the subject of great debate, and the answer(s) sit at the intersection of branding business and law. There are marketing professionals who believe that names that describe some aspect or quality of a new product are the best because it takes less time to explain to prospective customers what the product does or the need it fulfills. They may play with the spelling to try to add a distinctive flavor to the word, or add a gTLD like ".com," but the result is still a descriptive name. Examples are: After Tan (after sun lotion), Beer Nuts (salted nuts), Computerland (computer store), Frosty Treats (frozen desserts), Tender Vittles (cat food) and Tintz (hair coloring). Words of puffery like "Premier," "Best" and "First" also are considered descriptive. The challenges with using such a name are many. Here are a few: (1) words that are too descriptive may legally be generic and not protectable as a legal trademark – one well known example is pets.com, which cannot be used to stop petco.com or petstore.com, etc. (2) competitors legally are allowed to use descriptive words to describe their product, including words that are being used by another as a brand name – for example, Consumer Reports, the magazine name, couldn't stop a competitor from using a tagline like "reports for educated consumers" (3) if there are a lot competitive products being sold under brand names, tag lines, domain names, etc. that all use similar words, how are consumers going to figure out which is which? In such a case, the fog remains and envelops the little light that struggles to get through (4) trademark law doesn't protect descriptive names – one has to spend a lot of marketing dollars to elevate a descriptive name into one that is protectable (this elevation is legally called "acquiring distinctiveness" or "acquiring secondary meaning") – but even then these names can't be used to stop others from using the same words to describe their competitive products. If the idea is to have a unique brand name, then choosing one that describes the product, its function or its purpose won't do that. It may work for a while if the product is the first of its kind in the market, but smart competitors soon will find a way to use those same words to confuse the marketplace. A fog machine, so to speak. The lessons to be learned from highly successful, very protectable brands like Nike, Apple, eBay, Google, Yahoo, Tumbl'r, Facebook, Waze, and others are that (1) simplicity, two syllables or three at the most (with a nod to InstaGram, Timberland and others) are easiest to remember and effectively blast through the fog and (2) names that have no relationship to the product and are fun to say (Nike, Yahoo!, Google. eBay) or have a kind of relationship to the product (Facebook, Waze, InstaGram) are easiest to remember, and there is no threat of competitive descriptive use of these names. Combining them with powerful visuals, like logos, or memorable slogans that can be featured as part of an inspiring campaign ("Just Do It") makes them even better. And legally, these are the easiest to protect. Generally speaking, trademark law rewards brand owners that choose non-descriptive names and make their brands known – the less descriptive and the more well-known the brand, the more protection is granted. Pre-internet, some believed that these non-descriptive names were more difficult to introduce into the marketplace because it was hard for consumers to remember made-up words. That appears to be true for some names that are completely made up and have syntaxes that are uncommon, since people tend not to easily remember words that have no meaning or context (for more on this, and how people think and understand, a must read is Daniel Kahnemans' brilliant work, "Thinking, Fast and Slow"). Simple names that are not made up but are used for products they don't in an way describe (Apple, Nike, Yahoo, Google) or which have a suggestive, but not descriptive relationship to the product (Waze, Facebook) have a good chance of being remembered. And of course really effective pre-Internet, advertising and promotion were a lot less precise and a lot more expensive than today's creative strategies employing social media with other integrated campaigns to get a brand quickly known and loved (or not loved – the challenge of instant consumer feedback) to a targeted demographic. So what is the best business and legal choice for a great brand name? Something easy and fun to remember that doesn't describe the product it's used for. Boost it with distinctive logos (literacy in the world is decreasing, so powerful symbols may be even more important than brand names – think the Twitter bird, the Nike "swoosh," the Target "bulls eye", etc.) and support it with great marketing creative and strategy that drives home the brand message. And most important – integrity and responsiveness (great customer service) is still key since the brand name is the symbol of the reputation of the company and products it represents.
Posted by lawyeradmin
On November 10, 2014
During my early professional years, a major studio retained me to police counterfeit merchandise featuring IP from its mega-hit space themed film and television series. Research showed that most of illicit merchandise, much of it hand-made, was created, and traded, by fans of the property, often at conventions where stars of the show made appearances and hobnobbed with them. This caused quite a challenge – much of the fan merchandise being traded and sold fell below the studio's quality standards, and a number of authorized licensees of the property claimed that some of these fan products violated their exclusive license rights. The dilemma should be obvious – on the one hand, fan fanaticism and devotion were deemed important to the ongoing success of the property, so the last thing the brand owners wanted to do was to become aggressive in a legal way against that loving base, but on the other hand there were some very unhappy (and possibly litigious) licensees and a flood of inferior quality merchandise being bought, sold and bartered. Fortunately, the legal and branding teams, over time, with the assistance of fans and licensees, were able to finesse a satisfactory result Fan use of the internet to show support for their favorite brands initially presented the same kinds of dilemmas faced by my studio client. During the 1990's and into the 2000's, many brands really didn't know what to do about fan sites. The marketeers of course loved that fans were expressing their adoration and devotion on a global network that filled computer screens, but were not pleased when fans starting expressing their unhappiness with new products or corporate behavior. Nor were they happy with fan sites that had multiple misspellings, incorrect facts or just looked bad. And the in-house lawyers were very concerned. Trademark owners are legally bound to stop unauthorized uses of their trademarks (more about this complex area in another post), and fan sites were not authorized. Not to mention that some consumers might mistakenly believe that some of these fan sites were not fan sites but actual brand sites, which creates a host of legal and business headaches – especially if the fan site was poorly done. Various approaches were used to navigate through this mess, and by the mid 2000's some best practices had emerged. The appearance and rapid growth of social platforms like Instagram® and Pinterest® and fan use of content such as photographic images and videos to display their feelings, coupled with the importance of being "liked" on Facebook® (still the most important social media platform for brands – to be discussed in another post), has put a whole new face on the way brands view fans. One seismic change is that brand owners have moved 180° from trying to control and restrict fans to giving them incentives to show the love and doing their best to provide interactivity that matches fan expectations. There are many reasons for this shift; one of the more important being the recognition by brands that they can't control fans, that fans now have the power to make or break new products or brands in hyper-driven ways, and that putting hurdles in the way of expressing their fan-ness was, and is, a very bad strategy. The challenge for brands in maintaining fan interest these days is much tougher than merely keeping them engaged and happy in a world where fickleness and limited attention span are dominant behaviors. Brands are learning that merely building a place for fans to come home to and keeping the lights on for them is not enough. A recent poll by Hubspot of 569 consumers indicates that fans expect brands to be available for engagement on at least 3 if not more of the major platforms (Facebook® and Twitter® for sure, and depending on the gender and age demographics of the consumer, one or more of Instagram®, Pinterest®, LinkedIn®, YouTube® and Google+). Despite these expectations, however, the poll also showed that while 64% of the respondents expect a brand to be on Twitter®, only 31% actually follow their favorite brands on that platform. This finding more or less held true for each of the platforms – reality of use was far less than the expectation of being there. There's lots of other good insights and data in the poll, called, "The Social Lifecycle: Consumer Insights to Improve Your Business" ((http://www.slideshare.net/HubSpot/the-social-lifecycle-consumer-insights-to-improve-your-business) with significant teachings of these results being: (1) brands should focus on the right platforms for their consumer demographics (2) content for each platform should contour to the platform and not be serial repetition, and (3) ensure that consumers are greeted with passion and a persona with which they can resonate. And with all of this while we're still not sure what the financial ROI is for a brand's investment in social media, we certainly know what the risks are in not pleasing fans who use social.
Posted by lawyeradmin
On November 3, 2014
One of my favorite sources of information regarding the relationship between social media and branding is Digiday (Digiday.com).  In a recent post with the title "Millennial media-consumption habits explained, in 5 charts," the author presented a summary of findings from two recent studies, comScore, Noise|The Intelligence Group's Cassandra Report and nScreenMedia's report "What Millennials Want from TV," which provides insights into understanding the media consumption habits of Millennials.  Why is this important?  Millennials, the generation of 18 to 34 year olds, is the largest demographic in the US with significant numbers in other developed countries. For brands, understanding how this digitally native group consumes media provides insight in planning where and how they should be marketing to this very complex and diverse group.  Some of the more important findings are (1) current affairs and news are very important to this group and the majority rely on social media as the source for this information, (2) smartphones and other mobile platforms are the most popular social media sources, with Facebook leading the crowd followed by YouTube and Pandora, with Snapchat growing in importance, and (3) for news, Huffington Post is the leading source relied on, and interestingly Buzzfeed is growing as a news source.  http://digiday.com/brands/millennial-media-consumption-habits-debunked-5-charts. Knowing where Millennials are looking, however, doesn't necessarily translate into success.  A 2012 survey of 3000 adult consumers across five international markets conducted by Vanson Bourne produced data showing that  only 26% of these consumers use social media to follow brands, and of those that follow a particular brand only 48% are positive when they see brand communications and 40% said that they would be negative to communications from brands they don't follow.  And a whopping 65% said they would stop using a brand whose social media communications upset or irritated them.  That all being said, one of the more positive results is that adult social media users are swayed by friends and family — 84% responded that they are likely to investigate brands recommended by F&F, and might even make a purchase.  So the good news is that the "social" in social media is working for brands. And that's exactly why brands have to be so careful about their messaging and not doing and saying dumb things that will harm their brand identity, reputation and integrity.
Posted by lawyeradmin
On October 31, 2014
I've always been fascinated by the disconnect experienced by so many branding professionals and legal professionals over the term "trademark."  Many branders and marketers believe that trademark is a verb, as in "can you trademark …."  Many legal professionals believe that a brand is no different than a strictly legal thing.  So here's some clarity: a trademark is a noun. It is the legal term for what most people think of as a brand. It can be a word, a design, a combination of a word and design, a slogan, a scent (really!), a sound, a color, a combination of colors and designs and words, and just about anything that is used to identify and distinguish a product or a service from those of others.  The most elegant statement of what a trademark is and its value, in my opinion, was stated by Justice Frankfurter or the Supreme Court in a 1942 case involving a red circle on the bottom of a shoe: "The protection of trademarks is the law's recognition of the psychological function of symbols. If it is true that we live by symbols, it is no less true that we purchase goods by them. A trademark is a merchandising shortcut which induces a purchaser to select what he wants, or what he has been led to believe he wants. The owner of a mark exploits this human propensity by making every effort to impregnate the atmosphere of the market with the drawing power of a congenial symbol. Whatever the means employed, the aim is the same — to convey through the mark, in the minds of potential customers, the desirability of the commodity upon which it appears. Once this is attained, the trademark owner has something of value. If another poaches upon the commercial magnetism of the symbol he has created, the owner can obtain legal redress."
Commercial magnetism.  The drawing power of a congenial symbol.
A merchandising shortcut.
 These phrases cut to the chase of what every brander and marketer knows: A brand is a symbol, a shortcut, representing all of the imagery, context, messaging, communication, emotions, need fulfillment, and loyalty that the brand wants to represent and be known by.  In the dense fog of a crowded, undefined, constantly shifting marketplace, a brand is the light of the lighthouse and the clear path to the safety it is meant to represent.  A safe harbor for consumers.  A brand is all of these things, and to that extent is broader than the legal trademark, which is the actual word or other symbol that embodies all of these sensations and emotions and memories, etc. The easiest way to differentiate a brand from a trademark is to think of the trademark as the legal representation of the brand.  It is this legal representation that is protected by trademark law.  It usually consists of a name (sometimes called the "brand name"), such as APPLE, and often a logo such as 
and often a combination of the word and a logo, and sometimes a slogan too.  A brand is more extensive than this.  It consists of all of the divergent elements that make-up the commercial magnetism of the brand — customer service, the architecture of the stores, its advertising and promotion, online presence, financial reputation, its leadership, its coolness or lack of cool, music and images associated with the brand, quality of its products and services, consumer likes and dislikes, its relevance, its integrity (or lack thereof) and so on.  The trademark is a "merchandising shortcut" for all of these elements.  And all or many of these elements is what a consumer experiences when she or he sees the name or the logo.  A trademark is considered to be a symbol of a brand's reputation, reputation being the end result of how a consumer who has experienced the many elements of a brand thinks about a brand.  Trademark law protects that reputation, good or bad. A trademark, the legal noun, unlike a brand, can be 
registered, 
which is what most branders and marketers are thinking when they ask if a name or symbol can be "trademarked." The actual law of trademarks is quite complex and varies from country to country.  I've been a trademark lawyer for 30 years, and find that there's always something new to learn about and apply.  But here are some basics that will help you safely being to navigate through this legal fog: 1.  You can develop legal rights in a trademark just by using it in a way that people understand to be a trademark use.  Registration is not mandatory for protection in the U.S. But registration is the best way to get national protection and to prevent others from getting those rights before you. A very good primer about trademark registration in the U.S. is on the website for the U.S. Patent and Trademark Office at http://www.uspto.gov/trademarks/basics/BasicFacts.pdf. 2.  Just about every country has its own trademark law, and in most countries outside of the U.S., unless the trademark is registered, it's not protected.  And in most countries, anyone can register a trademark whether or not they have any intention of using it.  So before you decide to do business with a licensee, distributor, co-marketer or partner, outside the U.S., file an application for the trademark in that person's country.  If you don't, they might, and they don't have to give it back. 3.  Trademark law in the U.S. protects against the use of a similar — not identical — trademark for 
commercially related
 products or services.  And similarity can be similarity not just in visual appearance, but in sound or meaning.  For example, in one case, representing PLAY DOH, I was able to prevent FUN DOUGH from being registered  for a competitive product because to a child "fun" and "play" are similar in meaning.  And really well known trademarks get more protection than others, which helped in this case because PLAY DOH was so well known.  There are lots of examples of this.  GALLO wines was able to stop a playing card company from marketing GALLO playing cards, and we recently stopped a company from using EL GALLO for an energy drink.  For AMERICAN IDOL, we have stopped lots of people from using names containing the word IDOL for a wide assortment of products and services. What this means is that searching the Patent and Trademark Office trademark database for identical names is not enough to clear the use of a new trademark. 4.  Owning a domain name does not mean that you have acquired trademark rights in a brand name incorporating the domain name.  In other words, owning ABC.com doesn't give you trademark rights of any kind in ABC. 5.   Getting state approval to use a name as a corporate name or fictitious name does not give you any trademark rights in the name.  For example, a company in Denver years ago got permission from the Colorado Secretary of State to use the name Haircrafters for its business, but we were able to stop it from using the name because our client owned a federal registration of Haircrafters that predated the Colorado state approval. 6.  The only way to have a high degree of confidence that you can use a name as trademark/brand name in the U.S.  is to obtain a full trademark clearance search.  The same is true in most countries.  There are professional trademark search companies that can be hired to do these searches. 7.  Made up names (XEROX) and names that have no relationship to the product or service they identify (APPLE for computers; GOOGLE for a search engine) get the broadest protection under trademark law.  Names that are descriptive of a quality or characteristic of a product or service are very difficult to protect.  Generic names get no protection. 8.  Having rights in a trademark doesn't mean you have rights for every kind of product or service.  APPLE for computers and APPLE MUSIC for a music label/publisher have different owners.  Same for DELTA faucets and DELTA airlines, ROLLING STONES rock group and ROLLING STONE magazine, etc.  As a general rule, rights in a trademark extend to those products and services that are commercially related and the rights may be broader or narrower depending upon the type of mark.  For example, celebrity and designer names, which can be used for all kinds of products and services, and famous brand names, like GOOGLE and IDOL have more extensive rights than non-celebrity, non-famous brands.  So the better known you can make your brand known, the stronger the trademark rights. 9.  Trademarks are not copyrights and are not patents.  They all fall under the general heading of "intellectual property," but they are very different. As the blogging continues, I'll delve deeper into the interplay of brands and the laws.  Feel free to post questions.  I can't give legal advice on a blog (there has to be an attorney-client relationship for me to give legal advice), but I can provide some general guidance. Happy Halloween.
Posted by lawyeradmin
On October 31, 2014
Twitter and Isobar UK have published a new research study that examines "unconscious cues" that drive brand perception on Twitter.  Given the growing importance of Twitter to brand marketers, this study needs to be read by all brand marketers.   The study created fictional brands to test factors that matter when consumers look at your brand on Twitter, things such as the size of the brand's community, the voice of the brand, how it promotes, the number of followers, the number of tweets it sends out, etc.  As it turns out, these unconscious cues are important: some of them have a real impact on how consumers perceive and react to a brand.  And that's to be expected — the more a brand tries to be persona having interactive communications with real people in real time, i.e., the more it acts like it's a person, the more likely will it be reacted to as a person.  So just like unconscious cues play a significant role in interpersonal communications between real people, so they play such a role in interpersonal communications with the persona/voice of a brand and real consumers. So what are some of the UC's that make a difference.  According to the study results, (1) the more followers a brand has the more it is trusted (think "celebrity" and "popularity"– my words), (2) tone is really important; when it comes to brand bios, "funny" increases likeability while "serious" increases trust (so try to be seriously funny?), but likeability doesn't mean that consumers are more likely to buy the brand or not.  And the age of the consumer also plays a role.  Not unexpectedly the older the user, the less likely to purchase because of tweets.  Interestingly, but again not surprisingly, overall promoted tweets scored higher than organics. The full study is available here: http://usblog.isobar.com/wp-content/uploads/2014/10/Isobar-Twitter-White-Paper.pdf
Posted by lawyeradmin
On May 17, 2014
Brands are stories, and like all other stories, they have to be communicated. A story unheard is not a story.  A story not understood is not a story.  And clearly, a story not believed turns into something altogether different.  The brand as a story has to be effectively communicated, understood in a positive way and believed.   It has to be a story one wants to come back to, delight in and make part of one's own story. Why else would you wear someone else's name on your person? Back in the pre-digital days, brand communication was pretty straightforward: one-way, non-interactive print, television and radio advertising along with event, television and radio sponsorship. The brand told us what its story was and we, as receivers of those communications, either bought into it, or not. There really was no direct way of communicating back to the brand,  other than as measured by changes in sales and revenue of the branded product or service and the occasional (and rarely listened to — yes, I know there were exceptions) letters to the brand or to an editor.  There was some media coverage of brands, but usually when a brand got into trouble or when a particular brand campaign broke new ground (like "Where's the Beef?" for Wendy's). With the introduction of the Internet, a number of brands tried to make their websites cozy and welcoming places for their consumers to come and share recipes, indulge in product images, engage in various contests and the like, but the communication then was still pretty much one way — from the brand to the audience.  Yes, there was some interactivity, but it was mostly negative and in the nature of brand critical websites with obscene domain names (f**kbrand.com) or deceptive domain names (the old bait and switch, like the "pro-life" group that used the URL plannedparenthood.com  to criticize that organization), and critical and often nasty, but sometimes very nice postings on blogs, but the total audience for these were usually few. Enter Facebook, Twitter, Tumblr, Pinterest, Amazon, Yelp, and the extraordinary growing number of other platforms that allow for real interactivity with large audience reach.  Consumers are posting images that reflect their feelings toward a brand, are "liking" or otherwise commenting on brands, rating brands, sharing their experiences with brands, and, in essence, telling their stories about the story of the brand. The story is no longer from the brand to the consumer; it is now a mixture, except that the massively concentrated and distributed word of mouth that social media permits no longer gives the brand the final word on its story. For many brands, this was and remains both exciting and terrifying.  Loss of control is never pleasant. Change is always risky.  Rethinking and readjusting the brand message constantly, and always being on the alert for what the consumer is saying powerfully somewhere, is challenging.  And the consumer is so complex with so many different voices, from aging baby boomers who need to express themselves and their importance in waning time to Millennials, born with electronic digits, who view the online and offline worlds as one and don't trust easily (but also can be fairly easily manipulated). And then there are the strategy issues: so many places to target, so many media, so many channels, so much to do.  And what's the ROI? With studies showing that most videos embedded in social media aren't being seen, and data proving that visits, clicks and "likes" don't necessarily turn into sales (Facebook and others are re-thinking how they measure their effectiveness), many marketers feel challenged to support putting a lot of money into social media, but at the same time know that somehow they have to make it succeed and be an integral part of their brand story.  And of course the lawyers and compliance professionals are constantly talking about the risks, real and imagined, of dealing in social media (which I'll cover in another post). So what to make of this?  We need to always start and end with the basics — brand stories need to be communicated effectively, understood, believed and loved.  Which means taking an integrated approach that results in these goals. Use of the media that consumers use to get information is a right place to be, as long as everything that's offered up is consistent with and supports the overall brand story and the brand goals.  In other words, like every relationship that works, there has to be mutual respect, effective communication and trust.  Social media used effectively can create and sustain great relationships; used ineffectively, it can break them.
Posted by lawyeradmin
On May 12, 2014
We communicate through storytelling.  Everything we say and everything we perceive as reality moves instantly from the present into memory.  How those memories are categorized, stored, recalled and perceived is in the context of the story in which we have placed them.  All of us in our lives and livelihoods experience our place in the world through stories and storytelling.  Context is pretty much everything.  One of the first realities I experienced as a trial lawyer is that there is no truth, no reality about what actually occurred until the jury decides what happened based on the stories that each side presents.  And every advertising and promotion professional I have ever known has been paid to create stories that move their targeted consumer one step closer to adopting as their own reality the product or service being sold.  If it were otherwise, all an advertiser would ever have to say is "Here's my product.  Buy it."  That of course, would never happen. A brand is a story. Not the story of the brand, but of the emotions, aspirations, need fulfillment, social status and other sense of being conveyed through images, music, context and story.  Who I am, who I want to be, who I want others to think of me as — the story of "me," all conveyed in my relationship to the brand.  Because part of everyone's story are the brands she or he uses or aspires to use.  And every one of us in the world of branding wants to make sure that the brands we nurture and represent become part of the consumer's story, and that predators of these brands are not permitted to hijack them or their story. The battle for reality in the marketplace is no different than in the courtroom.  Each competitive brand has its story about how that brand is the best or a better choice for the demographic's sense of personal reality.  And everything a brand communicates about itself has to have credibility and integrity.  Or it won't be believed.  Same in the courtroom — facts told by one who is proven to be untrustworthy or not credible are not believed — they do not become part of the real story. So as it turns out, the ultimate goals of the marketer and the lawyer are not really different.  Both want the brand story to live long and prosper, and both want to make sure that competitors and counterfeiters don't denigrate, make false statements about or abduct the brand.  This relationship may not be  kumbaya, but it's certainly a shared and valued interest. And one worth keeping in mind.  That's my story, and I'm sticking to it.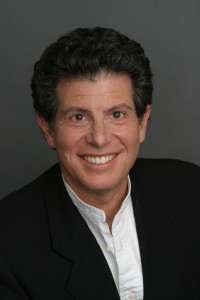 I am one of the lucky ones. From my first days as a lawyer 30 years ago, I was lucky enough to work with great brands like Sesame Street and the Muppets, Orville Redenbacher, Monopoly, Kraft Foods and Paul Masson. I since have worked with great brands like Apple, Microsoft, NBC, McDonald's, Star Trek, Citibank, SONY, Quaker, Pepsi, Gatorade, American Greetings, Strawberry Shortcake, Colgate-Palmolive, Philip Morris brands, Budweiser, Jack Daniels Properties, Aunt Jemima, the Rolling Stones, Revlon, Estee Lauder, the SC Johnson brands, Paramount Pictures, and currently with some of the foregoing as well as such great brands (and the great people associated with those brands) including American Idol and America's Got Talent (and all of the other FremantleMedia brands), the Gallo Winery and its many brands, and wonderful licensing talent including George Foreman, Hulk Hogan and Chuck Norris, courtesy of my extraordinary law partner Henry Holmes (the "Holmes" in our "Holmes Weinberg" law firm name – and Henry also has mentored my becoming an entertainment lawyer). The work is and always has been exciting, challenging and fulfilling.  It has included trademark, copyright and domain name strategies, acquisition, sale and enforcement, worldwide licensing strategies and deals, and sponsorships, endorsements, advertising and promotion in every media in most modern countries.  I've worked with established brands, transitioning brands and brand new brands.  And throughout this time I have been lucky enough to be married to Dana, who was a creative director at a major advertising agency and worked with a number of major brands.  Great synergy there – she taught me branding from the advertising and promotion side and I taught her all about trademarks.  This was especially fun when by happy coincidence we shared the same clients and were working on the same brands. With my software technology and marketing background, I also was lucky enough to be one of the first Internet/domain name lawyers in the world, and, with thanks to my then pre-teen daughter and her friends (and a few far sighted clients), early to social media. I became professionally enamored with the digital world, and with my background as a mediator, executive coach, speaker, litigator and negotiator, I needed to know more about digital communication as it affects brands and consumers, and so I co-founded what has become a leading integrated marketing creative studio in New York City, Know Use Corporation (knowuse.com) which works with new and established brands in developing and executing on state of the art creative P&A strategies, including social media strategies. I've shared this history with you because, hopefully, it provides some insight into my fascination with brands and their relationship with people.  And why I have decided to start this blog.  Those of you who know me know my love for talking about this subject – I was so flattered that the International Trademark Association decided to get out of its comfort zone and allowed me to develop and chair its first business and legal conference on Branding and Social Media in October 2013 and I'll be moderating a panel about it at this year's Licensing Expo in Las Vegas in June – will understand why I want to talk about it publicly more than once a year. So getting back to the title of this section, this blog The Brand Lawyer is about my observations and thoughts on both the business and law surrounding brands and the communication between brands and their consumers.  It's meant to be read by anyone interested in this important subject matter.  Others with my passion will have opportunities to post their thoughts and ideas here as well.  And since this is a startup, there are endless possibilities for what it will become. Thanks for joining me. Steven Weinberg
Scroll